Legendary rock 'n roller and the sweet shop kids...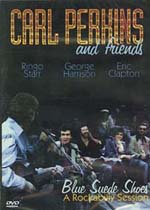 There are several good reasons you might want to own this 1985 'made for TV' rockabilly session featuring rock 'n' roll Godfather Carl Perkins.
Firstly, if you're a Carl Perkins /rockabilly fan. And secondly if you like seeing latter day superstars such as George Harrison, Eric Clapton and Ringo Starr having a good time. And that's one of the joys of this DVD. George, Eric, Ringo and Dave Edmunds were all heavily influenced by Carl Perkins and his music in their formative years and here they look like kids in a sweet shop - all impish smiles, clearly in awe, and having a rocking good time. And at the end of the session even Carl seems genuinely moved to tears.
Recorded live at London Limehouse Studios in 1985, the session is a run through of some of Carl's classics - Blue Suede Shoes and the like, with Carl 'and friends' trading places on lead vocals. Despite being recorded for broadcast, the sound isn't quite as sharp as you might expect and the visuals are somewhat dated (1980's hairstyles (and Roseanne Cash's in particular) being a bit 'suspect'). Other gripes - it's only 60 minutes long with no extras.
Self indulgent? Maybe. But as Paul McCartney once said - without Carl Perkins, there would have been no Beatles. Enuff said.
***
Review by Pete Whalley