CALLENISH CIRCLE '[PITCH.BLACK.EFFECTS]' Metal Blade (2005)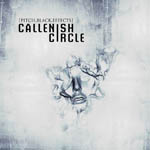 Callenish Circle is one of those bands that I was always eager to listen to for many different reasons. First of all, their origins are from the Netherlands, and those of you who have been listening to Thrash and Death metal for the last twenty years should know to expect great things from bands of this central European country. The other reason is that I had a very good working relationship with the band's vocalist and founding member Patrick Savelkoul, while he was handling the promotion for Karmageddon Media, and I always felt slightly guilty for not having listened to his bandís work earlier.
Well, knowing that Callenish Circle are signed with Metal Blade, I was expecting a promo of their 5th studio album "[Pitch.Black.Effects]". I was really hoping that the band would present something much better than the average mix of hardcore guitar riffs and melodic vocals that most bands who claim to play "modern metal" do nowadays, and I was happy to see that all ten compositions of this albums were more than rewarding...
The music of Callenish Circle combines many different musical elements, but the foundations on which their very interesting compositions are built are forged by Scandinavian-sounding guitar riffs, of the likes of Dark Tranquillity and The Haunted, and challenging/melodic guitar solos, the quality of which you normally find in bands like Kreator and Nevermore. "[Pitch.Black.Effects]" means serious business, and that is obvious from the first few notes of the opening track "This Day You Regret" - one of the main contestants for the title "best song" of the album. "Ignorant", the track that the band chose to publish on their website, as well as the following "Behind Lines" use a similar formula, building up some positive tension - tension that will be released by the mid-tempo tunes of "Schwarzes Licht", whose futuristic keyboard melodies and German female vocals reveal a different aspect of the band's character. Some more extreme metal aggressiveness can be found in the double bass drum tunes of "Guess Again", before influences from the past (Bolt Thrower) reveal themselves in "Self-Inflicted", and the quite atmospheric ""Pitch Black" bring your heart beat pulse back to a normal rhythm.
In their own words, Callenish Circle are not presenting you with anything totally innovative. Their influences are quite varied, and what they have quite successfully done, is to master the best elements from these influences, and present these in an album of high quality. I hope that we will get to listen to similar efforts from other bands in the future.
****
Review by John Stefanis