Just witnessed your best live gig?..send us a review!
BULLET FOR MY VALENTINE
Liverpool University, 14 November 2006
It's been quite a year for Welsh metal heroes Bullet For My Valentine. They have been touring extensively with their latest release 'The Poison' - supporting big names like Guns N Roses, Iron Maiden, Metallica and Korn, as well as main-stage shows at Reading, Leeds and Download.
I've been a big fan of the band ever since I heard their self-titled mini album in 2004, but hadn't had the chance to see them live. I wasn't disappointed.
Support bands Protest The Hero and As I Lay Dying tried to warm up the crowd but gave lacklustre performances that weren't helped by a terrible sound mix.
As soon as the Bullet For My Valentine intro tape kicked in, the impatient chants of 'Bullet' died away into a quiet murmur. Drummer, Michael Thomas, took to the stage and the crowd screamed. Finally, the band exploded onto the stage with the frantic 'Her Voice Resides' and the floor was turned into one big mosh pit.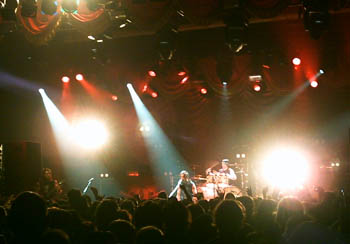 Bullet played through 'The Poison' and even threw in a fantastic cover of the Metallica classic, 'Creeping Death'. Their latest single 'Tears Don't Fall' had everyone in the room singing along, and acoustic guitars were brought out for the intro to 'All These Things I Hate', which showed real attention to detail.
For the last song, 'The End', vocalist/guitarist Matt Tuck demanded a circle pit to be formed in the centre of the floor. The results were devastating as the crowd went into overdrive!
They put on a fantastic show. It really showed their strengths as a band and highlighted what sets them apart from your average metal act - memorable songs. They have achieved a lot in a short space of time, and judging from the crowd reaction, have secured a loyal fan base.
After finishing this tour, Bullet will head back to the studio to record their new album. I can't wait to hear the results, and I'm sure the enthusiastic Liverpool crowd can't wait either.
Review by Ben Randall
---
| | |
| --- | --- |
| | Print this page in printer-friendly format |
| | Tell a friend about this page |