Just witnessed your best live gig?..send us a review!
BON JOVI
St Pete Times Forum, Tampa, Florida
17 February 2006
It's 2006 but not inside the Times Forum. If you had a ticket to the show tonight, it doubled for a ride in Jon Bonjovi 's own personal time machine. Jon took the sold out show (night 1 of 2) back through two decades of hits with a taste of new songs mixed in between. Growing up in New Jersey, I had the opportunity to attend quite a few of Bonjovi shows through the eighties and nineties. I think we even have a separation in acquaintances of less than three playing music in the board walk bars in the early eighties but I digress.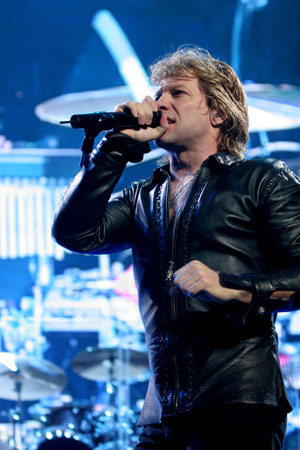 Even though the good folks at the Times Forum in Tampa kept a good many floor ticket holders (including myself) locked in a hallway for the first two songs, the show went on without incident.
Jon's energy on stage was almost as if he was ten years younger, his voice, the same. His enthusiasm was in line with a rock star's mid tour schedule's effects.
I like Bonjovi and I really wanted to be blown away tonight as I have been in previous years but it just was not the same. That's not to say that the sold out Tampa crowd was not screaming and having a great time, they were.
The band was tight, as they should be after all these years and their front man was in control (as he always is). Perhaps it was the venue. To me, Bonjovi is and will always be a garage band that made it big.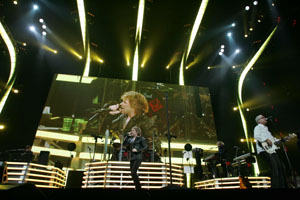 We flew to Pittsburg, PA one year for a Christmas concert back in the eighties or early nineties (can't recall) and I remember the look in both Jon's and Richie's eyes as the crowd reacted to the music. That was missing tonight. It was another show, another town, another year, promoting another album.
It seemed more fans had football jerseys on than concert tees. Boy times have changed! For those of you who don't know, Jon owns a arena football team named the Philadelphia Soul. I look forward to the day that Jon and the boys, ok, old men J launch the small venue tour. This is the Bonjovi that works the best.
The best shows I ever attended were with Jon at the Count Basie Theater at Christmas Time. This is where he shines. My wife and I even met his mother there. It was intimate back then. I could not even get his publicist to talk to me on the phone today. Here I go again, ok back to the show.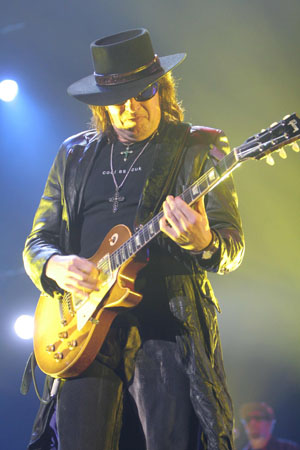 It was nice to hear Blaze of Glory and their version of Bed Of Roses had Jon performing amongst the crowd which was a treat for many. The highlight for me was the ironic rendition of "I would die for you" vocalized by Richie Sambora. This was a clear shot at Heather Locklear given Richie's recent marital problems that subsequently led to her filing for divorce last week.
All in all it was a good show and I'd recommend buying a ticket when Bonjovi comes to town. Unfortunately, the ticket price to get close was a bit steep and that can lead to disappointment.
Set List:
LAST MAN STANDING - YOU GIVE LOVE A BAD NAME - COMPLICATED - BORN TO BE MY BABY - STORY OF MY LIFE - I'LL SLEEP WHEN I'M DEAD - RUNAWAY - THE RADIO SAVED MY LIFE TONIGHT - BELLS OF FREEDOM - HAVE A NICE DAY - WHO SAYS YOU CAN'T GO HOME - IT'S MY LIFE - I'LL BE THERE FOR YOU (electric featuring Richie Sambora on lead vocals) - BLAZE OF GLORY (acoustic) - BED OF ROSES (acoustic) - BAD MEDICINE - RAISE YOUR HANDS - LIVIN' ON A PRAYER
ENCORE
NOVOCAINE - IN THESE ARMS - BLOOD ON BLOOD - WANTED DEAD OR ALIVE - TREAT HER RIGHT
Story and Photos by Steve Janowicz