BOB SEGER Face The Promise
Capitol (2006)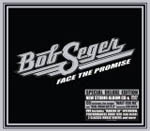 Bob Seger returns, minus the Silver Bullet Band, for his first new material in over eight years. Starting off with a no frills rocker 'Wreck This Heart' sets the album off nicely, whilst the title track keeps the rock quota up.
'No Matter Who You Are' is a Seger classic - mid-tempo, allowing his vocals and lyrics of the everyday man to shine through. 'Simplicity' is an attempt to add some variety with its horn and modern backing but sadly it fails to stay in the listener's mind.
That is the problem with a few songs on here they are fine to play and listen to but they don't really entice you back for more plays unlike previous Seger albums.
There are two duets on this album, first off is a bar room stomp with Kid Rock on 'Real Mean Bottle', great fun. Patty Loveless duets on 'The Answer's in the Question' although personally I find Loveless's voice a tad to whiny for my liking.
Not a bad album but when you stack it against his previous work it is not one of his best. There is also a bonus DVD with live footage from 1978 and a 'making of' on this new album.
***½
Review by Jason Ritchie