VARIOUS 'Is It Rolling Bob? A Reggae Tribute To Bob Dylan' RAS/Sanctuary RZDPR008 (2004)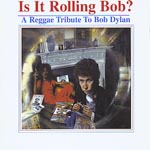 Tribute albums come in all shapes and sizes, some good and some bad. This one nods towards the latter.
Most commercial reggae, as is on show here, is unadventurous in being tied to a commercial yet ploddy rhythm, and Bob Dylan is one of folk's most overrated singer/songwriters so we're not off to a good start.
Opener 'The Times The Are A-Changin'' by Apple Gabriel is too tied to the basic rhythm, while at least Toots Hibbert's 'Maggie's Farm' does move away from such constrictions enough to warrant a listen. Most, however, don't. Think Bob Marley, UB40 etc.
Sizzla's version of 'Subterranean Homesick Blues' adds some rough garage but sadly sounds a tad disjointed.
It's actually very difficult to find anything interesting to say about this. Despite my resistance to the two ideas, apart or together, I still think my rating is generous. If you do like either it's a good background listener but far from first choice listening.
**
Review by Joe Geesin