BILLY IDOL 'Devil's Playground'
Sanctuary Records (2005)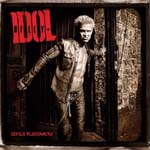 This is Billy Idol's first new album since 1993 and is well worth the wait. With the successful release of the VH1 'Behind the Music' CD and DVD and a Greatest Hits collection, this album should be well received amongst Idol fans and a new generation of fans via the likes of Green Day, The Offspring and Sum 41.
Opening tracks 'Super Overdrive' and 'World Comin' Down' are good examples of a fine mix of classic Idol and modern punk elements. My favourite track on the CD is 'Rat Race' dark and heavier, this is a very modern sounding track that is unmistakably Idol - this will be a massive single if released!!
Both 'Plastic Jesus' and 'Screaming at the Xmas Tree' are very tongue in cheek and equally catchy tunes. There are a couple more dark, heavier songs that deal with Idol's well documented relationship with Heroin, 'Body Snatcher' and 'Evil Eye' and another which tells the tale of his rediscovery of being alive again, the slow building 'Summer Running'.
The entire album has the trademark Steve Stevens guitar sound and is one hell of a comeback album, there is not one weak track here.Billy Idol is playing at The Download festival later this year and hopefully will tour the CD as well.
The man is a legend and it is good to see him back like he never went away, Welcome Back!!
*****
Review by Nikk Gunns