All-star fund-raiser from Bill Wyman's personal archive...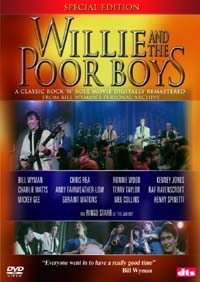 Originally released in 1985, this classic concert features The Stones' Bill Wyman, Ron Wood (playing saxophone like we never knew he could!!) and Charlie Watts alongside Who members John Entwistle and Kenny Jones (also of the Small Faces/Faces) and a special appearance by Mr Ringo Starr, a little known drummer from Liverpool.
The band play classic Rock 'n' Roll, for example tracks like Poor Boy Boogie, Saturday Night, These Arms Of Mine and the highlight of the show Baby Please Don't Go, sung by Chris Rea. The band played a 50's style Rock 'n' Roll show at Fulham Town Hall in 1985 to raise money for former Small Faces/Faces' member Ronnie Lane who had been struck down with Multiple Sclerosis.
Special features on the DVD include a 30 minute documentary Making Of feature, narrated by Bill Wyman himself and featuring interviews with most of the big names involved with this gig.
This DVD is a must have for fans of any of the bands mentioned above as well as Rock 'n' Roll fans in general.
****½
Review by Nikk Gunns