BILL WYMAN
A Stone Alone - The Solo Anthology 1974-2002
Sanctuary SMEDD234 (2006)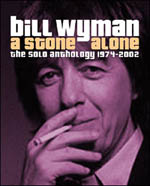 Most people know Bill Wyman as bass player of the Rolling Stones, a band dominated by the songwriting genius of Mick Jagger and Keith Richards. However, it was Wyman who was the first band member to release a solo record with 1974s 'Stone Alone' (also the title of Bills' successful biography) followed over the years by Charlie Watts acclaimed Jazz records and Ronnie Woods own brand of Ronnie Rock.
This 2 CD collection brings together the best of Wyman's solo tracks (disc 1) with a collection of recordings by Willie and The Poor Boys and live tracks from his current project The Rhythm Kings (disc 2).
Highlights of disc 1 include 'Ride On Baby', the almost electronic 'Stuff (Can't Get Enough)', the 50's style Rock n Roll of 'A Quarter to Three' and 'Nuclear Reactions'- a track that would be at home on Pink Floyd's 'The Wall'.
Also included is a track no-one will forget 'Je Suis Un Rock Star'- the song that launched a thousand chat up lines!!!!
Highlights of disc 2 include a phenomenal rendition of 'Baby Please Don't Go', the good time Rock n Roll of 'You Never Can Tell' by Willie and The Poor Boys, a band also featuring, amongst others, Jimmy Page, Chris Rea and Paul Rodgers. 'Rockin' Pneumonia and the Boogie Woogie Flu' and 'Georgia is on my Mind' by the Rhythm Kings are also well worth checking out.
One Rhythm Kings track missing that I would have liked to have seen included here is their outstanding version of 'Tobacco Road'.
****
Review by Nikk Gunns