BETH ORTON Comfort of Strangers EMI (2006)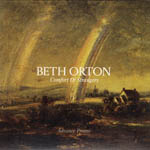 Beth Orton returns with her fourth album with Sonic Youth's Jim O'Rourke at the production helm (he also plays bass, piano and marimba on the album).
Aside for Beth Orton and O'Rourke the only other musician is percussionist Tim Barnes. Overall the instrumentation is very sparse allowing Orton's unique vocals to take centre stage.
There are very melodic and accessible numbers like the lead off single 'Conceived' and 'Rectify' through to more quirkier moments like 'Worms' and 'A Place Aside'.
Certainly not the easiest or most accessible female singer/songwriter out there but Beth Orton's excellent song writing and vocal talent make her well worth the extra effort.
****
Review by Jason Ritchie
***** Out of this world | **** Pretty damn fine |
*** OK, approach with caution unless you are a fan |
** Instant bargain bin fodder | * Ugly. Just ugly
get ready to rock is a division of hotdigitsnewmedia group