Explosive guitar from underrated Irishman...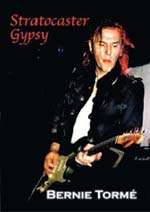 Much underrated and oft overlooked, Irish guitarist Bernie played an explosive style, mixing punk, metal, and touches of blues, Jeff Beck, Hendrix and glam. In fact if Hendrix played punk, youíd get Bernie. But thatís another story.
Best known for playing with Gillan and rescuing Ozzyís career after the death of Randy Rhodes, (add in Atomic Rooster and Silver too), his solo career is the most over looked and showcased here extremely well.
The live tracks (featuring Phil Lewis on vocals) are high energy, the light show matching Bernieís pyrotechnic guitar style. Turn Out The Lights is a real standout, and the promo clip of Shoorah Shoorah shows not only how his label were pushing at the time, but also how he should have had some hits.
On other tracks Bernie handles the vocals ably himself. And thereís loads of bonuses too; four bonus tracks (the live Boney Maroney features Gillanís John McCoy on bass), a specially recorded (and intriguing) interview and a biography all make for a complete package.
The recording quality suffers in places, but thatís to be expected. And with a decent running time and extras, itís a great insight and good value too.
One of Irelandís best if not best known exports.
****½
Review by Joe Geesin
Related>> Album review
Related>> Interview