Just witnessed your best live gig?..send us a review!
BEARSTOCK, Brentford FC 18 October 2003
After Reloaded had to pull due to the singer's illness, their replacement the Chevrons cancelled on Friday night as sadly the singer's father had just passed away that afternoon from cancer. Sincere condolences to his family & friends.
So it was too late for a replacement band and the two other bands got an extra few minutes each. The afternnon of the gig arrived and I was in a mild panic about the bands getting delayed, etc but they turned up in good time - Long Shore Drift from Dunstable and Black #5 all the way from Hull (some 300 miles away!).
The bar was packed with football fans who were buzzing after Brentford's 4-2 win over Luton Town but how would they take to some live rock music? Surprisingly well and the raffle took £230, which added to the Newswire auctions should raise over £300 or more for the diabetes charity. Plus of course there is another charity gig to come :)
BIG thank yous to -
Tim Edwards & Long Shore Drift (LSD) - they saved the day with their PA.
Black Number #5 - for sharing equipment with LAD & for traveling so far!
Pete Johnson, the staff of Stripes & Brentford FC - made us all very welcme & were stars :)
Tony Smith - my good friend & roadie for a night.
Nabila & Jasmine - saldy my family couldn't get along as we had no transport back but they were superb putting up with all my panic attacks/droning on about Bearstock.
Newswire members Graham, Paul & Janine for coming along on the night.
All the companies who donated prizes - they all went to very appreciative homes.
Batttttty - for being Batttttty & a star.
Nikk Gunns - get well soon sir!
The Chevrons - sadly pulled due to family bereavement.
Also heloed along the way... Ian at Changes One, Mark at RPM, Steve Williams of Power Quest, Charlie Farrell, Diane Green, Mike Vod & David Randall at the Music Index/GRTR!.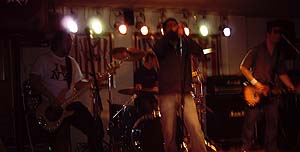 Long Shore Drift -
Nice loud set :) They played lots of original songs including 'Nu Rock' - hints of Nirvana/Pearl Jam in there, the frantic 'Rock 'n' Roll' (not the Led Zep one!) and a punk version of 'Sit Down', originally by James plus a Travis cover, whose name escapes me. The band are very young and slightly raw, but that gives them a good edge and the twin guitar sound gives a wall of sound. Plus the bass player was 'foot on the monitor' in true Steve Harris (Iron Maiden) style! Their first gig in London and they went down well. Definately potential in there...
Black Number #5 -
All the way form Hull! Been keen to see this band live as their EP is simply the bee's knees. Good news as well in that the abnd have just been signed as well and should be getting a video onto MTV2/Kerrang! by the year's end.
Lot of musical styles in the band but for me they play modern guitar based rock with a bid nod to classic 70's riffing of say Led Zep. The catchy 'Armies' got a play - that could do well with some airplay and 'Billy Pilgrim's Progress', with some fine guitar work on that one. Their drummer is from the John Bonham school as he knocked seven shades of s*** out of his drumkit! But kept a tight sound throughout and the bass was tightly played as well. Some inspired covers including a metal version of 'Whiskey In The Jar', a traditional Irish folk tune (check out the Dubliners' brillinat version) made famous by Thin Lizzy. Plus Neil Young's 'Rockin' In The Free World' and they ended with Bon Jovi's 'Wanted Dead Or Alive' - superb!
Great night, could have done with some more punters staying but with Motorhead down the road at Hammersmith that took away a lot of rock fans!
Thanks to everyone involved and a great night with some cash raised for a very worthy cause. Roll on Dec 20th & Beasrock 2 :)
Text © 2003 Jason Ritchie
Related>> Bearstock 2