MUSIC BY ANTHONY PHILLIPS/HARRY WILLIAMSON 'Battle Of The Birds' (Blueprint BP359CD)(2003)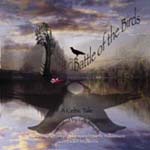 The spoken word concept album is always a bit tricky. This adaptation of an old Celtic tale is scored by original Genesis guitar plucker, Anthony Phillips, and Harry Williamson and dates from the late seventies. The two have collaborated previously, notably on the excellent 'Tarka', and they always succeed in creating very melodic, very English, pastoral music. They are joined by Didier Malherbe who added flute and sax whilst rehearsing for a Mothergong tour in 1981 and there are contributions from Hugh Hopper (Soft Machine) and Guy Evans (Van Der Graaf Generator).
Those Genesis watchers will detect the early band in some of these arrangements, but the uninitiated would do better to head for 'Tarka' or any of Phillips' solo albums. This is a curios piece that is pleasant enough, but with limited appeal and, I would guess, limited replay value.
Battle Of The Birds
© 2003 Voiceprint. All rights reserved.