AYNSLEY LISTER 'Live' Ruf 1100 (2004)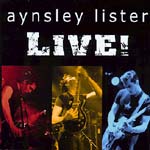 Almost overnight it seems, guitarist Aynsley Lister has grown from being a much lauded young teenage guitarist and an exciting Blues / Rocker into the fast maturing contemporary brusque rocker who leads his brand new band into this his first official live album. The fact that it was recorded for Rock Palast says much about Aynsley's self confidence, while his young rhythm section impress throughout.
Like several of his contemporaries, Aynsley paid his blues dues, learning his considerable guitar skills via the usual parental sources of Eric Clapton and Stevie Ray Vaughan, but as this his 5th album shows he has grown in terms of song writing, and has developed into a very exciting guitarist, with only his limited vocal range holding him back.
In short, Aynsley Lister 'Live" suggests he has matured into a powerful performer searching out his own musical horizons. And while his new songs such as "Snake" echo the staccato guitar lines of say 'Gov't Mule', and 'Everything I Need', raises the boogie ghost of ZZ Top and the fire of Rory Gallagher, there's a feeling of a young man busily honing his own style and embracing hard rock along the way. And in a contemporary music field bereft of out and out fiery players this is no bad thing.
Opening with a brace of solo efforts, he mixes his metaphors on the slide led 'Aeroplane Blues', and confidently handles Tony Joe White's 'As The Crow Flies', before launching into a double helping of powerful guitar led rockers, of which 'Balls of Steel' is an obvious crowd pleaser.
For the rest, longer term Aynsley fans are treated two superb versions of his best songs. 'Angel of Mine' remains an FM Rock radio sleeper, that will surely one day break him in the US, while the strong melody lines and uncluttered chords mark out 'Sometimes It Gets 2 Me' as another highlight. By the time of the closing rocker 'Falling Down' on which Aynsley fires off the licks, the crowd sounds as animated as the hard working trio on stage.
***
Review by Pete Feenstra
Balls Of Steel
© 2004 Ruf Records. All rights reserved.