ANNIE HASLAM 'Reissues' Voiceprint (2005)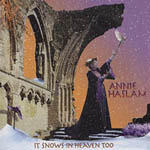 Three reissues from the Haslam back catalogue. If you like to roast your chestnuts over an open fire, you will like It Snows In Heaven Too (VP357CD).
Here Annie reworks some festive songs, and it's played very straight with excellent arrangements and keyboard orchestration by her collaborator Rave Tesar. This is one to bring out for Granny at Christmas. ***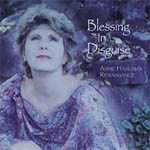 Blessing In Disguise (VP354CD) was originally recorded at a time Annie Haslam was struck with breast cancer in 1993. It may not be classic Renaissance, indeed this doesn't feature any of that band's musicians.
Instead we get contributions from Tony Visconti and, on two tracks, Dream Theater's Jordan Rudess. The keyboard player's 'Raindrops and Leaves' in particular is a goodie.
In places, the album makes you think of those albums that set poetry to music, in short, it's wordy and orchestral and the music seems designed around the lyrics rather than the other way round.
That said, Renaissance fans and those who appreciate Haslam's ethereal bell-like tones will lap up this reissue, and the two bonus tracks recorded in 2002.****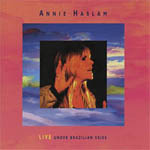 Live Under Brazilian Skies (VP355CD) reflects Annie's enduring popularity in South America and the mutual enchantment between audience and performer. The concerts recorded in March 1997 actually came about due to the efforts of three Brazil-based fans.
With just guitarist/pianist David Biglin for company, this CD is essentially a pared-down run through back catalogue. The use of backing tapes does, however, bolster the sound.
Renaissance were renowned for their symphonic prog-rock and stirring melodies and this concert wisely includes key material from all the seventies albums except 1979's 'Azure D'Or'.
The more recent material sounds good, too, and her writing collaborations with Biglin (notably 'Seashell Eyes' and 'Summon The Angels') contribute to an excellent package. It proves yet again that strong melodies and musical craftsmanship always win out. *****
Review by David Randall

Raindrops & Leaves
© 2005 White Dove Records/Voiceprint. All rights reserved.