ANNIE HASLAM 'The Dawn Of Ananda'
Voiceprint VP356CD (2005)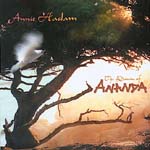 Annie Haslam of course will forever be remembered as the voice of Renaissance, those symphonic prog rockers that scored success in the seventies.
Although the band reformed briefly in 2000-1, Haslam pursued a solo career in the eighties and latterly developed her talents as a painter.
This recording dates from 1999 and will delight her fans. Originally it was only available on a small label, but it features contributions from one-time Renaissance collaborator Michael Dunford, producer Tony Visconti, and keyboard player Larry Fast.
'Ananda' could in some ways be construed as a spiritual work, at least a very personal exploration by Haslam who had been diagnosed with breast cancer in 1992 and was by the late-nineties coming to terms with a rejuvenated life and career.
This is a lush orchestral work and is a marvellous vehicle for Haslam's distinctive vocals.
***½
Review by David Randall

'Michael' Prince Of Angels
© 2005 White Dove Records/Voiceprint. All rights reserved.