ANGIE PALMER 'Road' (2005)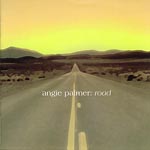 Road is Angie Palmer's third album, but her first co written with Paul Mason and her first to feature on the radar screen of country / blues music aficionados such as 'Whispering' Bob Harris. But Angie is about more than just country and blues. Her songs paints pictures and stories like those folk troubadours of the late 60's.
'Footprints In The Snow' opens the album and comes out of the traps like a thoroughbred. The pedal steel, banjo/mandolin playing is wonderful, but what really ups the stakes is the addition of Celtic violin. If this came out of Nashville it would be heralded as the second coming.
'Coming Home' is country blues with the feel good factor associated with some of the acoustic / mandolin work of some of the early Rod Stewart and the Faces work outs. 'Less Than I Need You', a simple and exceeding beautiful love song, Satellite a song of unrequited love.
'Fishtails' introduces Bonnie Rait style rock 'n' roll to the mix and 'The Ballad Of Love And Strife' is an up-tempo number again featuring a wonderful combination of country and Celtic, and as for delivery - think Kirsty Macoll.
'Follow Down Sundown' is a gentle acoustic based ballad with breathy vocals and haunting violin / cello. But the 'piece de résistance' is the 8 minute 58 second acoustic guitar based 'Down the Street of the Cat Who Fished'. A gentle number with the most infectious of choruses.
It's easy to be blinded by the accomplishment of the playing on display on Road, but what binds the album together is the strength of the song writing. It should ensure Road is one of those albums that stands repeated listening and the test of time.
****
Review by Pete Whalley