ANGEL BLAKE Angel Blake Metal Blade (2006)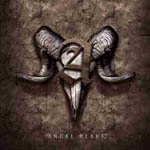 When, back on the 7th of March 2004, the members of the legendary outfit "The Crown" announced their decision to part ways, the world of modern Swedish Death Metal was plunged into darkness. Just as anyone would guess, though, these very talented musicians soon found alternative roots which allowed them to release their creativity. As a result, Johan Lindstrand (vocals) has only just released his debut album as frontman of One Man Army And The Undead Quartet, and we are now only a month away from the release of Angel Blake's, Marko Tervonen's brainchild, first ever album hits the stores.
Reading through the press release which was provided by Metal Blade, I realised that Marko's intention was to create music that would be far from the spirit of The Crown, and even though I immediately felt uncomfortable with the idea of not being able to listen to those fast, meaty guitar riffs of his, I decided to wait until I got my hands on the Angel Blake promo, before I reach any conclusions. By the end of the day, I assume that you would agree with me that, getting to listen to an album whose music is influenced by such diverse acts as Danzig, Paradise Lost, Sentenced and Metallica is not such a bad thing!
The one thing I was anxiously waiting to hear, right after I started listening to the new album, was the sound of Marko's guitars, and that massive sound that came out of my speakers when the first few notes from the intro "The Force" filled the room was quite rewarding. Angel Blake are definitely a unique band, and "Retaliate", with it's Amorphis meets Metallica beautiful melodies and the sing along refrain , is here to prove that statement.
My real interest in this album, though, kicked off when I was first introduced to the groovy guitar riffs of "Lycanthrope". This is one of the "dirtiest" songs of the whole album, that also displays an amazing vocal performance by Tony Jelencovich, whose voice is as rebellious as that of Dave Wyndorf (Monster Magnet) and as evil as that of Glen Danzig!
More great riffs and 'sing along' refrains can be found in "Self-Terminate" and "Solitude, My Friend" before the brilliantly performed piano theme of "Autumnal" brings a feeling of solitude that's so fitting to a typical day of that season. Friends of late Paradise Lost and Fields Of The Nephilim should check out "The Forsaken" and those of you who are interested to hear how well epic Black Metal melodies can mix with Metallica sounding riffs will really enjoy listening to "Thousand Storms". The only bad moment in this album comes in the form of a pretty average cover of The Rolling Stones' anthem "Paint It Black", but the quite dark and atmospheric melodies of "...'Til The End" will make you soon forget that rather unfortunate choice...
You really have to respect any artist that has the strength to leave their glorious past behind and re-establish themselves in this hard and very demanding music industry. But that is not what makes "Angel Blake" such a good album. Marko Tervonen has managed to release a very enjoyable release which, even though it sounds so fresh and different from the norm, feels so unbelievably familiar and warm - an album really worth investing in!
****
Review by John Stefanis