AMY WADGE No Sudden Moves
Manhaton Records (2006)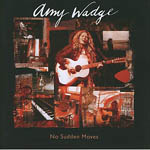 Amy's 2004 debut Woj is one of those undiscovered gems. It received widespread critical acclaim, but for some unexplained reason never catapulted the pint sized poetess from the Valleys to stardom. The title of her follow-up - No Sudden Moves - just about sums up Amy's career to date but it finds her in a more relaxed state of mind. Quite possibly having hitched up (literally) with Welsh song writing genius Henry Priestman.
Henry, the man responsible for The Christians hits, acts here as one half of The Erneez production team (with Guy Batson - St Etienne), co-writes several numbers, and turns his hand at various points to wurly, bass, keys, acoustic, Rhodes, Hammond, penny whistle, accordion and backing vocals. But you suspect his most significant contribution has been one of giving Amy belief and inspiration.
The album opens with Here In My Hands - a gorgeous ballad with Amy's vocals straying into Bonnie Tyler territory. Always makes the hairs rise on the back of your neck - Amy's beautiful vocals floating over a gentle Latin rhythm and the delicate trumpet of Tony Peers.
And those opening tracks set the tone for the album - it's packed with 'proper' songs where for once the songs and the singer aren't buried in the production. Please Don't Disturb has Minnie Ripperton overtones and Free Fall is an infectious piano based number reminiscent of Carole King's Tapestry period.
All in all, it's a laid back sort of an album - there's a stunningly beautiful piano version of the Manic's A Design For Life and Pulling Me In is another memorable number - a silky soulful ballad with exquisite vocals and a chorus perfect for those 'in concert' zippo moments.
The first single - USA? We'll Wait And See is another sing-a-long highlight, Play It Again ends the album on a high note and elsewhere there's plenty of acoustic, piano and wonderful vocals. To sum it up, No Sudden Moves is an altogether more mature offering than Woj and could well be the album to break Amy into the mainstream.
****½
Review by Pete Whalley