AL STEWART A Piece of Yesterday - The Anthology EMI (2006)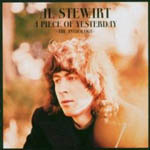 Scottish singer-songwriter Stewart hit London just in time to see it swing. His ability to craft and perform melodic and lyrically erudite folk rock snagged him a recording deal and the rest as they is ... history.
Which as it happens is just one of a range of subjects upon which Al dwells to no small extent in a 40 year career (charting by the '70s with the more AOR friendly 'Year Of The Cat') from which cherry-picked highlights make up this 2-disc set.
It's another reason why he's is still with us: Al's keen to share his pre-occupations and bring them alive. Full-blown operattas on science fiction, world history and events are tackled with the same wit and informedness as folk ditties and poppy love songs.
A consumate guitarist with a good ear and eye for talent exemplified by his band support and imaginative orchestration, his light, clear voice travels well across 'Electric Los Angeles Sunset', 'Time Passages', 'On The Border', 'Nostradamus Pt. 1 & Pt. 2' and, of course, 'Year Of The Cat' itself.
A pan-career collective that rewards fan and newcomer alike to what's proven an enduring talent.
****
Review by Peter Muir
---
| | |
| --- | --- |
| | Print this page in printer-friendly format |
| | Tell a friend about this page |