ADIMIRON Burning Souls (Karmageddon Media) (2004)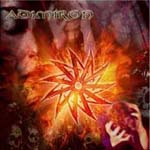 We have been receiving quite a large number of promos at Get Ready to Rock since the beginning of the year - the most obvious sign that 2004 is already considered being one of the most prosperous years in the history of Metal. The most encouraging thing though is the fact that most of these promos belong to new bands that are now making their first steps in the music industry like sheep amongst wolves. Well, the latest promo that I have received from Karmageddon Media records is the debut album from the Italian outfit Adimiron.
There is something really amazing about the Italian bands: even though most of them are devoted to Melodic Metal (Athena, Rhapsody), even the representatives of the extreme sound like Bulldozer and Sadist have always managed to reveal the melodic side of their character in every single release. Well, Adimiron will continue this tradition with the release of 'Burning Souls', and album which is capable of satisfying the supporters of every different branch of Metal. There are many different sides to the character of this band, all of which are revealed in equal proportions on this eight track album.
There are songs like 'Cold Anxiety', that will bring back memories from the days when Chuck Schuldiner and his band Death were the rulers of the extreme sound, atmospheric compositions such as 'Suffering Voices' the guitar work of which will definitely put to shame many so-called 'guitar virtuosos', and tracks like 'Unexpected Life' in which the Italian quartet unleashes a fearful attack that only a few of today's Death or Black Metal bands are able to compete with.
I realise that I probably sound very excited about this release, but I'm pretty sure that many of you will share my feelings once you get the chance to listen to this album. Two years ago Adimiron were awarded 'Best Newcomer' by the Italian Metal magazines, and have also received the prizes of best guitarist (I have no doubt about that) and best vocalist.
Karmageddon Media should have every reason to feel proud of having this band in their roster - I only hope that this southern European band will be given all the chances that they need in order to prove that we can all put our hopes for the further evolution of our music into their hands. Believe me, they deserve it!
****
Review by John Stefanis
Related>>Album review