Hallelujah...Aaron Neville keeps gospel fires burning...
AARON NEVILLE Devotion Silverline DVD-A (2003)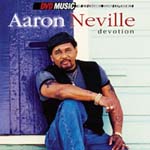 You may have seen the review of the companion 'Believe' DVD-A by my erstwhile colleague. If you haven't, check it out for background to the releases.
First of all, let me reassure you - this may be a DVD-A by one of the Neville Brothers, but thankfully neither Gary nor Phil made it to the subs bench. Brother Ivan does however make a guest appearance on Singing You a Prayer.
So what's Devotion like? Well, it earned a Grammy nomination for Best Traditional Soul Gospel Album so it's no pup. And, like on Believe - Aaron clearly is by a man inspired by his God. There are spiritual covers of standards - Morning Has Broken, Bridge Over Troubled Water, and Let It Be - all sufficiently distanced from the originals to make them an interesting listen - mixed with gospel standards.
OK, so it doesn't 'rock' (think some of the slower Commodores moments peppered with a healthy does of religious fervour) but it is uplifting. The aforementioned Singing A Prayer and By Heart, By Soul being particularly worthy of mention. On the latter, Aaron trades vocal 'licks' with guest vocalist Avalon who adds a more 'traditional' gospel flavour to proceedings. And the closing track is a quite superb soul rendition of I Shall Be Released.
Bonus material includes two tracks not on the CD, interviews with Aaron and friends, and live footage from Angola Penitentiary. And of course the 5.1 Dolby Surround Sound (mixed by Gary Lux - Sting, Alice Cooper etc.) is quite immaculate. Hallelujah.
***
Review by Pete Whalley
Related>>Believe