U2 reissue with bonus material ...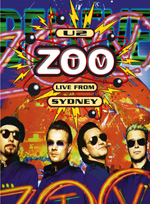 U2's Zoo TV tour - which lasted for two years between 1992 and 1993 - was one of the most ambitious rock tours ever staged. Inspired by the video age, cable TV and 24-hour news channels, the vast stage backdrop was pixilated by hundreds of video monitors capable of simultaneous or independent broadcast.
The concert - which up to now has only been available on VHS format - was filmed at the Sydney Football Stadium, Australia in November 1993 on the final leg of the tour. And for the DVD release, the original analogue footage has been cleaned up to add sharpness and contrast, and features PCM stereo, Dolby Digital 5.1 and DTS5.1 surround sound.
It also comes in two formats - a single disc featuring the remastered VHS release, and a 2 disc set with bonus features that include Tryin' To Throw Your Arms Around The World and Desire (from the Zoo TV Special at the Yankee Stadium New York on 29th and 30th August 1992) and The Fly and Even Better Than The Real Thing (from the Stop Sellafield concert at the Manchester G-Mex on 19th June 1992). Also included are footage from the video confessional - a room in the stadium where fans could spill their secrets, a Numb karaoke, and three documentaries - A Fistful Of Zoo TV, Zoo TV- The Inside Story, and Trabantland.
As anyone knows, U2 simply don't do bad concerts, and from the show opening , Zoo Station and The Fly you know you're in for a belter. It's a great show, a riveting watch and the highlights are too many to mention. But don't take my word for it, do yourself a favour and add this to your list for Santa.
****½
Review by Pete Whalley