When I listened to Cruachanís latest effort "Pagan", I felt compelled to prepare a couple of questions, which were kindly answered by the bandís percussionist Keith Fay. This is what the storyteller from the land of the bards had to say.
Congratulations for your latest release "Pagan". Who and what was the driving force behind the album? When did you first start composing the material?
Keith: Thank you. I suppose I was the driving force behind the album. It was a difficult time actually for the band as my brother John O'Fathaigh was in and out of the band due to personal stuff he had going on at the time and when the studio got booked not knowing if we'd have a full Cruachan line-up to record with.
Luckily John did re-join at the crucial time but couldn't commit to being full time in the band but we still recorded the album with him as a member. We put him as guest musician just to avoid confusion later. Most of the material was composed the year preceding the recording but some parts were written around the time of recording and two totally by John. We had to drop a few tracks too, one of which was a favourite of mine but unfortunately we noticed a timing issue and it was too far into the recording to fix it so we had to drop it...it'll appear on the next I'm sure.
The album is very personal. Which of the songs would you say reflect best your way of thinking?
Keith: I don't know, possibly The Gael. I'm very melancholic and I also like to stir up emotions of sadness, loss and despair. I also think the vocals on 'Pagan' reflect my feelings towards organised religion. I know I'm having a go at the catholic church in this song but it's meant to encompass all organised religions from Judeo-Christian religions to the Islamic religion. I don't like any religion that forces you to behave in a certain way or you'll be damned and these words of warning are sometimes coming from people who do heinous acts which go against normal human nature and morals. It just makes me angry.
I'm not one for preaching and everyone has a right to choose what they want from life but for me personally, it all angers me. I'll step down from the soapbox now.
How much of the music in "Pagan" is borrowed from Folklore and how much do you compose yourselves?
Keith: We compose most of it ourselves, we make up some traditional sounding arrangements etc. We also do some purely traditional tunes and ballads like for example, Some say the devil is dead. We also may use a traditional piece in part of a song or even a small part of a traditional tune. Generally about 85 to 90 per cent of our stuff is original and not borrowed.
Bands like Therion have managed to combine two diametrically opposed (But arguably close) styles of music (that of Classical and Metal), as well as their respective audiences. Would you say that you have managed to achieve something similar with the combination Of Metal and Folk music? Is "Pagan" a representative of that successful combination?
Keith: We have achieved, I suppose some kind of similar amalgamation although give me the money and recording time Therion get and I'd be able to do something spectacular. That's basically our Achilles heel...too much stuff to do and not enough time or money to do it.
However, we have managed to achieve something similar, we don't only get metal heads at our gigs, we get people from all walks of life, which makes for an interesting gig...not only for us but for the audience too. You don't often get Black metallers rubbing shoulders with Folk pundits. Getting back to your question, do I see Pagan representative of that folk/metal combination. Well, each of our albums are representative in different ways of the 'crossover' of folk and metal, Each are distinctly Cruachan yet have their own respective qualities, I couldn't single Pagan out on it's own.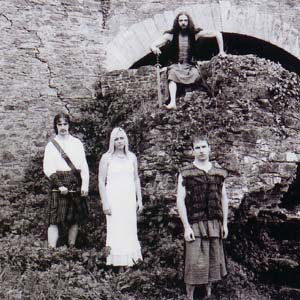 In most of your songs you use traditional Folk instruments. Have you studied any of these?
Keith: No, we're all self taught in the band. We wouldn't have time to study music as we all have day jobs to keep our heads above water, so to speak. We were always into folk and metal and when we finally picked up instruments, that's what we learned as that's what we were listening to.
Where was the album recorded and who was responsible for the production?
Keith: It was recorded in sonic studios in Dublin and the culprit responsible for production is Al Cowen. It was the first time we used this studio and possibly the last. We've recorded all our albums prior to this in Sun studios, also in Dublin and were quite happy there as we knew the producers there very well.
The reason we didn't record there was because it got too expensive for our label to fund which is the bane of many bands and so we had to look for a cheaper studio. For our next album we plan to go to Germany and get a producer that has worked with metal music and a decent studio, in the long run it will be cheaper as it's massively expensive in Ireland.
Research has shown that the production of the album disappointed some reviewers. How satisfied are you with the production of this album and how difficult do you think it is to create the perfect production for such a demanding style of music, such as yours?
Keith: Personally I'm not happy but it was due to time and money restrictions. You can't record a perfect album without having the perfect means necessary. I've seen reviews that thought we purposely chose this production but in all honesty we wanted much much better.
It's very difficult to get all the instruments working harmoniously and if you don't have the time to do this you just have to cut corners. I know that all of our albums could've been a lot better if we had more time to fine tune and tweak things. Even after the recording session there were still problems, for example, I wanted to go over to Holland while the recording was being mastered as there were lots of sound effects and soundscapes to go on but the label said that it wasn't necessary and to just do a list of what we wanted and where...we did, and nothing of what we planned appeared on the final product, we didn't even hear the finished album to approve it. It's very frustrating.
The way we see it is that we are releasing these albums and though we like them very much, we know that they could be given that bit extra by the label and being able to use good producers or facilities. We're not like an average metal band consisting of 3 different guitars, a drum kit and a singer, we have a much more complex situation and need more time to get everything together so that it sounds ok.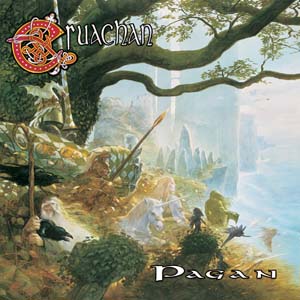 The album cover is one of the best generally. As far as I know, this was a previously unprinted illustration by John Howe. What made you decide to use his work for the cover, and was it difficult to convince him to allow you to use it?
Keith: It wasnít difficult at all, John Howe jumped at the chance. He heard our music and he really loved it, he's also a big Shane McGowan fan and was excited about Folk-Lore, which Shane co-produced and sang on.
The unreleased painting is very apt too, it's called 'Celtic Myth'. It all happened by chance really. As you may know my brother and former long time member John O'Fathaigh done all the artwork for Cruachan as he's talented in his own right, but the deadline was nearing and he was only halfway through the painting with no end in sight (he had a lot on his plate at that time) so as far as I can remember, he suggested asking John Howe as he vaguely knew him and that was how we got into contact with John basically.
The painting my brother was doing for the cover of Pagan is going to be a Cruachan poster, which will be on sale at gigs. My brother's taking care of all that.
Influences from bands like Skyclad are very apparent not only your music, but also in your lyrics ('Pagan' is a good example of this). Would you name Skyclad as one of your main influences? Which other bands have influenced you?
Keith: Yes, Skyclad would be one of our main influences or possibly more to the point would be that they were our inspiration. They were the only band at the time when Cruachan formed that played anything remotely like Folk Metal especially their 'Burnt offering...' album.
I must also mention Sabbat's album 'Dreamweaver' which had a great Pagan feel to it and is still one of my all time favourites. Another major influence was an Irish rock band from the '70's called The Horslips that mixed rock with traditional Irish music. Other bands that influenced us at the time (late '80's early '90's) were Bathory with the Viking style Quorthon created, Isengard and possibly Storm. They are the only other Folk-like bands that I remember from that era, even keyboards were only really being introduced large scale into songs, especially in the Black metal scene. (Obviously there was Nocturnus but they are a different thing altogether). It's crazy to see how the Folk metal scene has grown from just one or two bands.
The lyrics of your songs cover themes from historical events ('Michael Collins', 'Ardri Na Heireann', 'Viking Slayer') to fantasy, such as'The Fall of Gondolin'.
I really liked all the songs of "Pagan", but one song in particular stood out, namely "The Gael", on which the female vocals are particular touching.
Can you give me some back round to this song; is there a true story behind it?
Keith: There's no true story behind it really, but it is a continuation from a song which appeared on 'Folk-Lore' called 'Death of a gael' in which a gaelic woman mourns the death of her husband killed by a viking arrow. 'The Gael' on 'Pagan' is set some time after and shows the love that this woman still has for her man and the hollowness and grief she still endures.
Everything reminds her of him and yet she's finding it hard to remember his face just the emotions and joy she felt with him. I like songs about loss and grief, As I kind of said before I'm a bit of an emotional nut.
What are your plans for touring for'Pagan'?
Keith: We plan to tour sometime after the summer but nothing is definite yet and dates and venues still have to be sorted. We're playing one or two festivals this year namely 'Bloodstock' in England in September that I've mentioned earlier and "Pagan metal festival' in Germany in Gessen in November.
We also have a traditional folk festival on the Aran Islands off the West coast of Ireland next month, which will be interesting. There's talk also of a short tour in the Benelux area also but nothing confirmed there either. I think it'll be 2005 when we'll really be hitting Europe and some of the bigger festivals there, we'll see. It's definitely not through lack of wanting to tour that we're not playing everywhere.
The band is well known for having an impressive stage presence. If you played in England, how well do you think songs such as 'Michael Collins' and 'Some Say The Devil is Dead' would be received by the audience and how comfortable would you be playing these songs to an English crowd?
Keith: I really don't know how those aforementioned songs would go down in England, as we've never played there before. We'll soon find out though as we're playing the 'Bloodstock' festival on the 4th of September in Derby. This is stuff we play and this is Cruachan, if people don't want to hear it they don't have to go, we're not going to compromise or apologise for our songs.
I don't mean to sound arrogant or anything but what we sing about actually happened and is part of our history like our song 'Bloody Sunday' from 'Folk-Lore', even U2 have a song about this tragic day. We're in no way anti-English and whatever happened in the past is history. Some good friends of mine are English and I'd hate to think of people thinking that Cruachan are anti-English. I know we may get trouble from people who aren't clued in to what the band are about and may even call us racist which some people have called us before because we sing about our own culture, but these people just need to be educated in history and politics. It's just music at the end of the day, we're not trying to preach anything, we're just telling the story, that's all.
In the beginning of your career you were considered to be a Black Metal band with Folk influences. Your style has changed over the years to possibly place a greater emphasis on the Folk elements. How much do you think your current sound appeals to your Black Metal fans and what do you consider to be your typical audience?
Keith: We actually considered ourselves as a Pagan metal band as we didn't sing about Satan or all that stuff but obviously it was easier for people to lump us in as a Black metal band. I think a lot of our Black metal following would prefer more emphasis on the metal part without losing the folk sound, but this can be a hard balance to keep right, when you give more to one you lose from the other. Our typical audience is a mixed bunch now, we still get the Black metal heads but now we're after getting a lot of the younger metal crowd, kids that would be into the likes of Nightwish and Blind Guardian for example and obviously the people who are into Pagan and Viking metal. We also get people into folk and medieval music and a fair few Goths.
Is there a democratic songwriting process in the band or do the ideas stem mainly from one individual? If it from one, who is that person?
Keith: Anyone in the band can contribute whatever they want to writing a song although in reality it was mostly myself (Keith) and my brother John O'Fathaigh that did the writing. We'd come up with tunes or riffs generally alone, then I'd see what John thought or vice versa and then sort something out in our heads and go back to the band and jam them and see what they thought... they'd either be kept or scrapped depending on the view the majority had or possibly improved or whatever.
We've tons of tunes floating around ready to be plucked into songs.
What do you think has made the Irish write good Heavy Metal music? Is it because of all the political problems that exist in the country?
Keith: Do we? We're still a very small scene and far away from the hub of metal so I suppose that would have some affect on our individualism in our styles of metal here. We don't have much political issues here anymore compared to say the '80's so I don't know, the Irish scene has always been secluded from the European scene and bands have been brewing their own style in this isolation, it's only in the past 6 or 7 years that people started to take notice of the Irish underground.
Primordial and ourselves were possibly the first to break out of our underground and get some recognition abroad.
How close are you to other bands from the Irish Metal scene?
Keith: We grew up in the scene with Alan and Ciaran who are basically the driving force behind Primordial. We go back years and have been in the scene from early ages. We generally know on a friendly basis most of the Irish bands as it's a close-knit scene and everyone runs into everyone else at some stage. We'd generally have a drink with Alan etc. if we were in Dublin city or at a gig but it's not that often we'd meet up as it's basically too much trouble getting home in the early hours half pissed, Ha Ha!
I notice that you have some connections with Russia and that you have toured there. What do you think makes Russians such big fans of Celtic music?
Keith: We headlined a Celtic festival in St. Petersburg, which was totally amazing. The Russian crowd was excellent and really enthusiastic, we really look forward to playing there again. I don't know what makes Russians such big fans of Celtic music, I've asked myself that question and can't find a plausible answer.
It's the same for most Eastern Europeans and people from the Baltic States too. Maybe it's their turbulent history that they can associate the lyrics in some Irish ballads with, I don't know. I couldn't believe the Irish pubs they have and even the hotel we stayed in the bar was full of Irish stuff and Guinness posters etc. They also love Jameson Irish whiskey, which was funny...they drank that while I drank their vodka.
What do you see as the next logical step for the band? What are your plans and what do you want to achieve with Cruachan?
Keith: To do an extensive tour to get the name around a bit more and to start writing new material and release a new album as soon as possible. We're only contracted for one more album so we'll try to scout around and see if there are any better offers elsewhere.
Have you any plans for a concept album? I believe this is something that most fans would expect from you.
Keith: It's something I've thought about all right and I think you're right in saying that it's something that fans would expect. I've thought about doing a concept album, although it would more than likely have to be spread out over two albums, about Cuchullainn or more exactly about The Tain where he solely defends his homeland against a full army.
I'd like the layout of the booklet to be done in such a way that it looks like an old manuscript with the full story of the Tain inside with the lyrics, so people will get the impression that they are actually reading old texts. I'd like to do it in a way that it's like a soundtrack and has big bombastic sounds and some narrative along with the songs. It's only a pipe dream at the moment but if the label or any label is willing to fund it we will be more than happy to do it.
A message to your fans?
Keith: Thanks for the interview. I'm sure we'll be touring somewhere near you over the next year or two so keep an eye on our website for news etc. www.cruachan.cjb.net Thanks to those who have supported Cruachan in the past and present...A drinking horn shall be raised in your honour. Slan.
Related>>Album review
---
Interview © 2004 John Stefanis