WIN AC/DC BOOK, BLACK SABBATH CD, STATUS QUO VINYL!
Our current competition offers the opportunity to win a new AC/DC coffee table book - 'In Full Flight' - covering the years 1978-1982 as photographed by Alan Perry who also provides link narrative.
Black Sabbath are currently touring 'The End' which reaches the UK in January 2017. There's a chance to win a new 2-CD 'The Ultimate Collection'.
Status Quo's latest "unplugged" offering - 'Aquostic II...that's a fact!' has been well received and we're giving away the double-vinyl version which features the three new tracks plus a bonus not obtainable in any other format.
---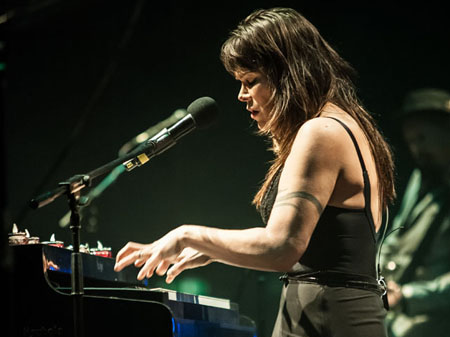 INTERVIEW RADIO SPECIALS INCLUDE BETH HART & LARRY MILLER
Singer/songwriter Beth Hart has just released her new album - 'Fire On The Floor' (Provogue).
In reviewing the album, Pete Feenstra wrote: "a contemporary album shot through with old school values and it's delivered by one of the great singer-songwriters of our time. Unreservedly recommended."
Pete caught up with Beth recently to chat about the album and play tracks. The interview was broadcast in Pete's Sunday Feature on Get Ready to ROCK! Radio.
Recent interviews have included Dennis Greaves (Nine Below Zero) and blues singer songwriter Katie Bradley.
On Saturday 5 November there is a benefit gig for blues rock guitarist Larry Miller who suffered a stroke in August 2015 and has not played since. Pete Feenstra chatted to his fellow band member Derek White about his music and the forthcoming event.
These special features can be heard again via a dedicated Mixcloud page.
Photo: John Bull/Rockrpix

---
Albums of the Month
BETH HART Fire On The Floor (Provogue)
...a career defining album full of rich songcraft, heartfelt phrasing and exuberant playing shot through with total conviction and emotion (Pete Feenstra)

---

RICHARD SHINDELL Careless (Continental)
...Shindell deserves to be better known than he is and 'Careless' might well do the trick...Touching, intelligent and staggeringly good. As usual. (Alan Jones)

---

TILT Hinterland (Tilt Music)
Melodic, interesting and – when required – complex progressive music make Tilt's debut album one you really need to hear and own. (Jason Ritchie)

---

STATUS QUO Aquostic II (Universal)
... musically the band are still in rude health and those searching out their Quo fix will not be disappointed with this album (Dave Wilson)

---