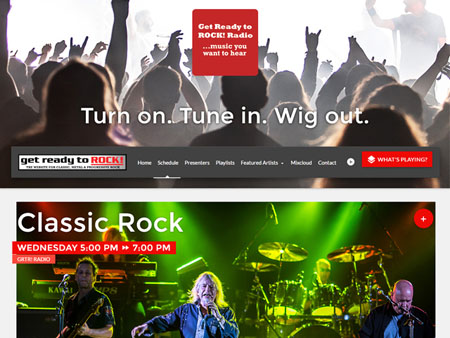 NEW RADIO WEBSITE LAUNCHES
Our radio partners Get Ready to ROCK! Radio have just launched a brand new website.
The new site makes listening easier and more enjoyable with nearly 10 years of content re-purposed and access to "listen again" features.
The radio station was designed to complement the reviews at www.getreadytorock.com
Station manager David Randall commented on the new design: "We hope listeners will take the trouble to provide feedback on the new site and get involved via the instant request form. We've also given more emphasis to our Featured Artists, who we include more regularly in our playlists and in special features."

Show highlights are available via a dedicated Mixcloud page, including recent chats with Danny Bowes (Thunder) and Bob Catley (Magnum).
WIN 13-CD VANGELIS BOX SET
Modern music visionary Vangelis has announced the release on 3 February of a new 13-disc box set entitled 'Delectus,' featuring a chosen selection of his early discographic work.
The mammoth collection includes all of his albums on Vertigo and Polydor, recently signed by Universal and remastered for the first time ever under the legendary composer's own supervision.
We have a box set on offer in our latest competition.
Competition (Comp. closes 19 Feb., 23:59 GMT)
---
Albums of the Month
BLACK STAR RIDERS Heavy Fire (Nuclear Blast)
The band have thrown off the shackles of the 'used to be Thin Lizzy' moniker and have solidly established themselves as a major player in their own right... (Dave Wilson)

---

THUNDER Rip It Up (earMUSIC)
..rocking hard, exploring melodic depth, lyrical substance and enveloping hooks. Thunder still have plenty in the tank and their enduring brand of Classic Rock has come round again. (Pete Feenstra)

---

PRIDE OF LIONS Fearless (Frontiers)
...if, like me, you still hanker after old-fashioned values of good melodic arrangements and lovingly crafted songs, it's an album to return to again and again. (Andy Nathan)

---

MARCUS MALONE A Better Man (Redline Music)
He's a peerless vocalist and a hugely impressive songwriter and also has the Midas touch as a producer....'A Better Man' is an early year highlight and an essential purchase for all rock/blues fans. (Pete Feenstra)

---

WILLE AND THE BANDITS Steal (Jigsaw)
..an album that feels organic and unrestrained. No over indulgence and no unnecessary frills, just great songs delivered from the soul. There's just not enough of that these days. Too much form over substance. But there's substance in abundance here. . (Pete Whalley)

---