GREAT BRITISH ROCK & BLUES STARTS THE FESTIVAL YEAR

The first major UK rock festival in 2016 took place in late January at the Butlins venue in Skegness, Lincolnshire.
GRTR!'s Pete Feenstra was MC for the duration and together with Simon Dunkerley has given a comprehensive account of proceedings, with Hawkwind, Tygers Of Pan Tang and Martin Turner on the bill.
Photo: Simon Dunkerley
---
HENDRIX MUSEUM OPENS IN LONDON
A long-planned museum celebrating two giants of music - classical and rock - opened recently in London's Brook Street.
The Handel & Hendrix Museum is based in the legendary guitarist's former flat and where classical composer Handel was a neighbour, two hundred years earlier.
Pete Feenstra from GRTR! attended the launch evening, with appearances by former Hendrix girlfriend Kathy Etchingham (who owned the flat in the late-1960s) and Hendrix guitar guru Roger Mayer, amongst others
---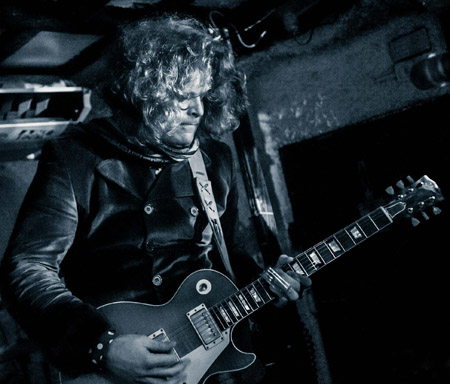 NEW INTERVIEWS ADDED TO MIXCLOUD
Several recent interview/featuress have been added to the Get Ready to ROCK! Radio Mixcloud page. The page gives you access to show highlights, interviews and features that have appeared on our dedicated radio station.
Recent additions include MONSTER TRUCK, DEVON ALLMAN and SIMO (pictured), all artists either touring or releasing new albums.
Photo: John Bull/Rockrpix
---
Albums of the Month
SIMO Let Love Show The Way (Provogue)
...only a band with true jam band sensibilities could enter the studio with such a loose approach to produce music as thick as molasses, but with spiky, gnawing solos that bite like a vampire.. (Pete Feenstra)

---

MAGNUM Sacred Blood "Divine" Lies (SPV)
The band keep doing what they do and with Clarkin at the controls and his able cohort Catley, the starship remains in rude good shape...nearly 40 years after their album debut – fresh, relevant and, yes, even redolent of the glory days. (David Randall)

---

DREAM THEATER The Astonishing (Roadrunner)
I shall require another 10-20 listens before I figure out if this is their masterpiece or not. It at least lives up to its title: The Astonishing is indeed an astonishing piece of work from one amazing band, in scope and scale. (Chris Martin)

---

RUNRIG The Story (Ridge Records)
The band can be rightly proud of their musical legacy which has provided the soundtrack to a groundshift in the Scottish nation over the last 43 years and will no doubt continue to do so long after the band hang up their guitars. (David Wilson)

---