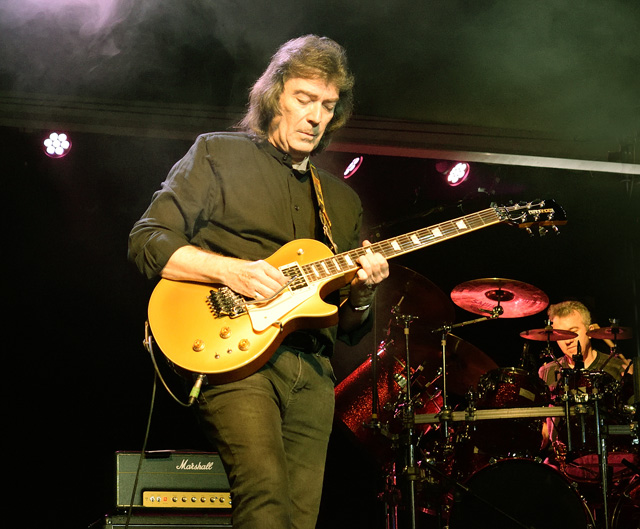 STEVE HACKETT UK TOUR STARTS 28 APRIL
STEVE HACKETT starts his latest UK tour on 28 April in Cardiff.
Promoting his new album 'The Night Siren' the tour is also billed as "Genesis Revisited with Classic Hackett" and culminates in a sold out show at The London Palladium.
The tour celebrates the 40th anniversary of the classic Genesis album Wind and Wuthering, and he will be performing several tracks from the album as well as fan favourites such as 'The Musical Box' and other Genesis numbers never performed before including 'Inside & Out,' 'One For The Vine' and 'Anyway' as well as classic Hackett and new material from The Night Siren.
Steve is a Featured Artist at Get Ready to ROCK! Radio and features prominently in the progressive rock sequences.
---
RECORD STORE DAY 2017
Support your local record store on Saturday 22 April!
Thousands of record shops worldwide will be supporting this annual event which has become a showcase for independent music sales and special promotions with, increasingly, limited editions available specifically for sale on the day.
We have a CD/DVD giveaway in a new competition
Competition
More information (Record Store Day UK)
---
Albums of the Month
THE LONELY ROBOT The Big Dream (Inside Out)
"The whole album holds together perfectly and yes it is another album I am sure that will make my year end top ten albums with ease. Fascinating to see where the next and final musical instalment of the Astronaut ends up, until then we have this album to savour and enjoy." (Jason Ritchie)

---

ECLIPSE Monumentum (Frontiers)
"Eclipse have if anything raised the bar even higher from their previous trio of top class albums. If there is any justice, this album will help them break out of their relatively small, cult market and give them the 'big mo' implied by its title." (Andy Nathan)

---

MAGENTA We Are Legend (Tiger Moth)
'...while Rob Reed may have a bigger paint box at his disposal, he's still painting by the same numbers...It turns out We Are Legend isn't so much 'something different' as a turning back of the clock to 2004 – 2006 when they produced their best albums – Seven, and Home."
(Pete Whalley)

---

AS LIONS Selfish Age (Better Noise)
"...This has to be one of the strongest debut albums of 2017 and if the band can build on its greatness, no doubt greater things will surely follow." (David Randall)

---

STEVE HACKETT The Night Siren (Inside Out)
"Hackett's latest musical offering ... is an eleven track album which has been created with these very principles in mind; a continuous need to indulge in new themes and sounds and an amazing compositional skill in blending those ideas in a style of playing that is so very characteristically his." (Yiannis Stefanis)

---