Headbangers...walk this way...
Wycked Synn was created when founding members Ken Orth and vocalist Gary Grant first met in December of 2001.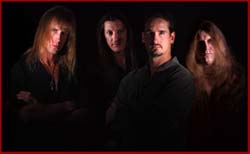 Ken Orth a guitar virtuoso from the old school, had started a project in March of 2001 recording all of the material and then began to search for a vocalist that would compliment and excel all of his work. After many frustrating month's of auditioning vocalist's, Ken and Gary met by chance. A veteran bass player Gary Grant moved over to vocals and is influenced by the likes of Geoff Tate, Steve Perry, Rick Emmitt, and Bruce Dickinson. The duo have been working nonstop on the record ever since.
During all the studio sessions, Ken called up his long time friend and native of Pennsylvania drummer Keith Miller. Ken asked Keith to check out the material, needless to say, Keith was very impressed and wanted to be a part of Wycked Synn. Wanting a double kick power drummer Ken asked Keith to fill the position and he came aboard in the summer of 2002. With the year vastly coming to a close, Wycked Synn was preparing to release their album and wanted to take the band worldwide with the power of a label. Wycked Synn made contact with US indie rock label Chavis Records and a deal was negotiated.
MP3 © 2003 Chavis Records. All rights reserved. Used with permission.