Swedish guitar wizardry from visionary musician...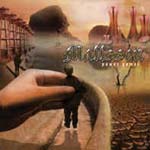 A guitarist of the classic metal/hard rock school Lars Eric Mattsson was first discovered by Mike Varney (Guitar Player Magazine and Shrapnel Records ) in 1985. In 1992 Lars teamed up with Swedish singer Conny Lind who had been in Los Angeles working with Alex Masi and together with Drummer Tony Mattsson and Bass player Michael Ahlskog they formed the band VISION and recorded 1992's album Lars Eric Mattsson's VISION which went down well in Japan.
In 1996 Lars wanted to give VISION a second chance and recorded the VISION Album 'Till the End of Time' which was his most laid back melodic almost AOR release ever. The album got very good reactions and was a living proof that melodic hard rock still had an audience.
As VISION was taking a break from recording Lars went into in studio at the end of August 1997 with a bunch of new songs and the resulting album 'Obsession' received rave reviews - Progression magazine of USA called it 1998's best guitar album.
In the autumn Lars begun writing for another album and just to make things more interesting Lars invited some Friends and well known musicians to guest on the project. These included : Patrick Rondat (Jean Michel Jarre) Rob Johnson (Magnitude 9), Erik Norlander (Lana Lane, Rocket Scientists) Pär Lindh (Pär Lindh Project) and Esa Pietilä. In January 2000 'Another Dimension' was released and soon became Lars biggest success this far, both artistically and commercially.
Lars then recorded an album with the progressive project 'Condition Red' (2000). In 2002 Lars started working on the new MATTSSON album, this time joined by singer Lance King (Balance of Power/Empire). 'Power Games' is Lars most complex release this far.
MP3 © 2003 Lion Music. All rights reserved. Used with permission.