Tuneful rock from master songsmith and singer...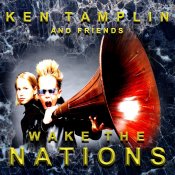 Ken Tamplin has been the master of catchy melodic hard rock tunes for over two decades now, firstly with his band Shout and then as a successful solo artist. His new solo album, 'Wake the Nations' features a guest list inc. Jeff Scott Soto (Talisman/Takara), Whitesnake/Dio guitarist Doug Aldrich, Richie Kotzen (ex-Poison) and more! Three full-length MP3s from this album are featured here!
Ken Tamplin has always been referred to as a "singer's singer" while guitarists have hailed his playing, songwriting and production among some of the biggest names in the business. At a very young age Tamplin joined his first professional rock group Joshua and has expanded on to other well known groups such as Shout and the famed rock group Magdallan which he partnered with long time friend and guitar virtuoso Lanny Cordola.

Tamplin then went on to be asked to sing for such groups as Foreigner, Skunk Baxter, Jeff Lynn, Geazer Butler, and even Peter Frampton.
In time, Ken became known for his production abilities which has led to many film scores and source music for such features as Inspector Gadget, Perfect Storm, The Waterboy, Charlie's Angels, Mod Squad, Wild America, Major League III as well as a host of TV series' such as Melrose Place, 90210, The X-Files, Baywatch, the theme for Ace Ventura (Nickelodeon), Spin City, On Disney Now!, and Entertainment Tonight.
Related>> 10 Questions
Related>> Album Review
Now And Then
Ken Tamplin website
MP3 © 2003 Ken Tamplin. All rights reserved. Used with permission