WIN A FAMILY TICKET TO KNEBWORTH!!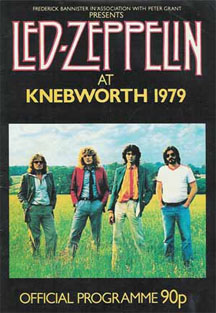 We've got a Family Ticket (worth £33) for the winner of our July competition which will get you access to the Led Zeppelin 'Memories in Music 1968-2008' exhibition.
We'll also include a copy of the album 'The Song Remains The Same' (remasterd with bonus tracks in 2007)
For the runner up, we have two adult tickets for the event.
The Led Zeppelin Memorabilia Exhibit - 'Memories in Music 1968-2008', held during August at Knebworth House (Hertfordhire) in the family library of Edward Bulwer Lytton from 1 August - 3 September 2008.
The Exhibition will open daily from 12.00 noon-5.00 pm (last tour at 4.00pm). All tours of Knebworth House are guided except on weekends where the House operates 'free flow.'
Those wishing to spend more time at the 'Memories in Music 1968-2008' exhibit on guided tour days can be taken back at the end of the visit.
To celebrate the 40th anniversary of the formation of Led Zeppelin - with the proceeds of all donations/raffle-prize money going to the ABC Trust, Action for Brazil's Children, Zeppelin fans can view a selection of all things Led Zeppelin over four decades from badges to bathrobes.

Amongst the many juicy items are large amounts of handbills, tickets, rare vinyl, programs, signed photos...it's a long list which keeps growing...and you'll have to be there to experience it all! For example - visitors will see a red leather jacket belonging to John Bonham which still has the Guest Artist Pass for the Knebworth show attached to it.
Just answer the following question. Closing date 31.07.08.
Winners notified by 5 August 2008.
What year did Led Zeppelin appear at Knebworth?
(a) 1975
(b) 1976
(c) 1979
Now complete the form below: