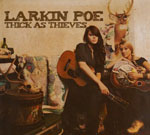 WIN A COPY OF 'THICK AS THIEVES'
AND A COMPLETE SET OF EPS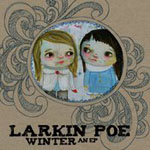 Larkin Poe are Featured Artist at Get Ready to ROCK! Radio throughout July when we will be adding more of their music to our general playlists.
The band is centred on the two Lovell sisters, Rebecca and Megan, who as Larkin Poe have toured constantly since their formation in early-2010. The band are touring the UK from 12 July.
'Thick As Thieves' is their latest album which ably demonstrates their blend of roots and soft rock.
We have five copies of the new album to give away (which comes with a bonus live concert DVD recorded in Norway in 2011). In addition the first correct answer in our prize draw will receive a slipcase 'Band For All Seasons' containing the band's previous four EPs
Album review

More information and tour dates

Just answer the following question. Closing date 31.07.12. Winners will be notified by 10 August.
Rebecca and Megan Lovell come from which part of the States?

a) Colorado
b) Tennessee
c) Georgia
Now complete the form below: