WIN A KEITH RICHARDS STASH!
FIVE TO GIVE AWAY!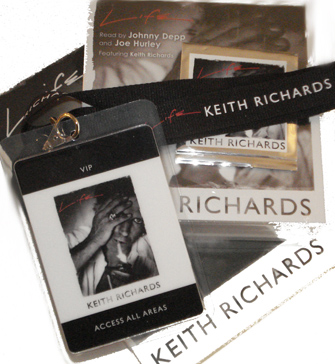 Keith Richards' highly acclaimed autobiography is published in paperback by Orion Publishing this month and, courtesy of Orion, we have five superb promotional packs to give away...
This fantastic prize includes a copy of the book plus various promo items: a collectible plectrum, an unabridged audio CD (narrated by Johnny Depp), a pen and a laminate/lanyard.
The book has been described as a 'once-in-a-generation memoir of a rock legend' and has been a No. 1 Sunday Times bestseller.


To win just answer the following question. Closing date 19.06.11
When was 'Life' first published in hardback?

a) 2008
b) 2009
c) 2010

c) Now complete the form below: