WIN TICKETS TO GLENN HUGHES GIG - PLUS SIGNED CD!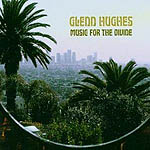 We've got a pair of tickets to a Glenn Hughes gig of your choice (see dates below) plus a signed CD. Closing date 25.10.06.
"Glenn Hughes, The Voice...perhaps the greatest male vocalist this country has produced in....well, the entire rock era. An effortless, emotional singer who is quite unsurpassed. If ever there was a man who raised rock music beyond an art form, it is Hughes." (Malcolm Dome, Classic Rock magazine)
As a member of Deep Purple, he enjoyed both the benefits and costs of being a rock star eventually falling into a dark period of addiction which blighted his immediate post Purple career. Significantly, it is 30 years ago this year since the Mark Three line up of Deep Purple split at the Liverpool Empire, and Hughes's close friend and guitarist Tommy Bolin later died of a heroine overdose.
His recent career has blossomed and his voice, musicianship and song writing remains in good shape. Glenn and Chad Smith (of Red Hot Chili Peppers, and Hughes' collaborator) recently did a 30-minute interview with Phil Jupitus on his national BBC Radio 6 show. Chad played an exclusive show in Rome with Glenn directly after the Peppers monster tour and four-night sell out stint at Earls Court.
UK dates
JB's, 15 Castle Hill, Dudley, West Midlands Tel: 01384 253597 Saturday 28th October 7.30 Tickets £15
Shepherd's Bush Empire, Shepherd's Bush Green, London Tel. 0870 771 2000 Sunday 29th October 7.30 Tickets £15
Roadmender, 1 Ladys Lane, Northampton Tel. 01604 604222 Tuesday 31st October 2006 7.30 Tickets £15
Album review
Just answer the following question:
In 2005 Glenn Hughes released an album with a well-known guitarist. Was it:
(a) Eric Clapton
(b) Steve Morse
(c) Tony Iommi
Now complete the form below: