SAMSON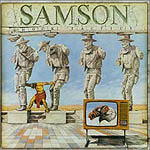 NWoBHM band Samson, led by guitarist Paul Samson, were one of the early risers of the scene, and their first two singles "Telephone" and "Mr Rock'n'Roll" are two of the earliest NWoBHM releases. At the time Paul handled vocals, and was joined by drummer Clive Burr and bassist Chris Aylmer.
Burr jumped ship for Iron Maiden, to be replaced by the former Maiden drummer Thunderstick for a third single and the album Survivors, which also featured Gillan's John McCoy and Colin Towns. Strong driving hard rock with a blues tinge.
The following two albums Head On and Shock Tactics featured vocalist Bruce Dickinson (both albums are classics) before he too joined Iron Maiden.
Before The Storm and Don't Get Mad Get Even featured singer Nicky Moore, and the album's are equally worth searching out. Moore's vocals added a real dimension to the music.
A live album and solo album later, Paul Samson soldiered on throughout the 80s and 90s with various line-ups, with some great music along the way too, before reuniting with Aylmer, Thunderstick and Moore for a gig, live album and a couple of new tracks in 2000.
A couple of years later Paul sadly succumbed to cancer, and his last album should soon be released posthumously, painstakingly finished by John McCoy on Paul's instructions.
More information:
© 2006 Joe Geesin/GRTR! All rights reserved.