ROGER TAYLOR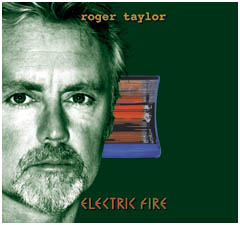 The drummer in Queen is also one of the most active in the solo arena, although like guitarist Brian May they are both hardly what you call prolific!
Taylor's first solo album was 'Fun In Space' released back in 1984, which although fairly dated in sound still features some cracking tunes like the rock 'n' roll of 'Let's Get Crazy' and the slower 'Magic Is Loose'. 'Strange Frontier' is the weakest of his solo efforts and only worth getting if you are a completist.
But 'Happiness?' is well worth owning as it has modern production and some great songs like 'Foreign Sand', with its wonderful atmospheric keys. Taylor is never shy of political songs, none more so than his attack on Rupert Murdoch on 'Dear Mr Murdoch'.
His latest release so far is 1998's 'Electric Fire', another good release containing a sequel to 'Under Pressure' in 'Pressure on' along with other stand outs like 'Is It Me?' and 'No More Fun'.
Along with his four solo albums Roger Taylor also put together the Cross who featured Queen's live keys player Spike Edney (also founder of the SAS Band) amongst its line-up.
The debut album 'Shove It' was released in 1988 and is worth getting. Freddie Mercury guests on 'Heaven For Everyone'. 'Mad, Bad & Dangerous To Know' is okay but the band's last album 1994's 'The Blue Rock' is the one to get along with the debut. Some great melodic rockers like 'Dirty Mind' sit nicely along the mellower refrains of 'Hand of Fools'. This latter album never got a UK release and since then that's been it as far as the Cross are concerned.
Hopefully we will get some more Roger Taylor solo work very soon.
More information:
© 2006 Jason Ritchie/GRTR! All rights reserved.