MOLLY HATCHET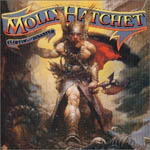 Jacksonville based Molly Hatchet were formed in the late 70s, and were apparently the kind of sound Ronnie Van Zant wanted to take Lynyrd Skynyrd in before the latter's tragic plane accident that decimated the band.
The first two albums are southern rock classics, with the whiskey soaked vocals of Danny Joe Brown fronting a three guitar blues rock band.
Flirtin' With Disaster remains their best studio album, while many other early 80s albums are more than essential listening. But the mid 80s (with Brown already having recorded an eponymous solo album, one of the best southern rock albums all time) saw the band with two guitars and John Galvin on keyboards, and the band taking a more AOR approach. That said, Double Trouble Live is a classic live album that Kerrang! awarded 15K (15/5 is pretty good, you could argue).
Brown left again due to health problems, and sadly died last year. Since the mid 90s Phil McCourmak has handled the vocals very well, sounding much like Brown, any material since is easily superlative (and certainly heavier and more southern) to the reformed Skynyrd who seem stuck with the AOR sound.
More information:
© 2006 Joe Geesin/GRTR! All rights reserved.