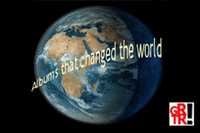 MOLLY HATCHET 'Double Trouble Live'
Epic EPC 88670(December 1985)
CD reissue,1989 (Sony 40137)
Possibly a contentious choice, but if ever there was a double live LP that rounded up all that the band was with truly earth shattering performances, then this is it.
Molly Hatchet, releasing their eponymous debut in 1978, took Southern Rock to new levels in the 80s.
The lead singer had left and come back, they'd gone from three guitars to two, and they'd brought in the pianist form the singer's solo album. The previous studio LP (The Deed Is Done) had taken a more AOR approach (still a damn good album), but this live set was a true return to form.

Kicking off with 'Whiskey Man', there's boogie aplenty ('Boogie No More' a true classic), rough whiskey soaked vocals, slide and harmonica bursts and a crowd just lapping it all up.
There are three covers on the album that make the album worth checking out in their own right. Firstly (and I care not for accusations of blasphemy) there's 'Freebird'.
The Skynyrd classic is actually extended and improved on (despite being a management decision, and I gather since some band members consider a mistake). But you have to hear it to believe; believe me. The Allman Brothers' 'Dreams I'll Never See' is taken from the band's debut and again a brilliant southern run through.
Also on side 4 is 'Edge Of Sundown'; the original taken from singer Danny Joe Brown's solo album, contender for best southern album of all time.
'Edge Of Sundown' has recently been reintroduced into the set featuring on Hatchet's excellent recent Locked And Loaded live set. That set also features Hatchet's own answer to 'Freebird' in 'Fall Of The Peacemakers'.
Double Trouble Live features it in full, making it even more essential. Guitarists Dave Hlubek and Duane Roland give it all plenty, pianist John Galvin fits in well and bassist Riff West is probably the best 4-stringer the band have had.
The rocker 'Beatin' The Odds' finishes the set nicely. The two new numbers 'Walk On The Side Of The Angels' and 'Walk With You' are excellent but are sadly omitted from the CD and have yet to be officially released.
The former was issued on a promo 12" with 'Flirtin' With Disaster' and 'Freebird' used to promote the album in America.
The production is solid and performances tight. Evidence of post production tampering (as there is with most live albums) are that the also excellent Gods And Knights bootleg from the same era is a little rougher, and one former band member has no memory of playing one of the two new tracks.
That aside, it's still a truly awesome album. Kerrang! (back when it was a respectable rock mag) gave the album a record breaking 15k (15 out of 5), suggesting we forgot Maiden's Live After Death didn't even exist. Xavier Russell got than one right.
Review by Joe Geesin