MICKY JONES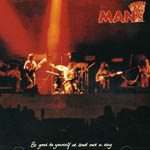 Micky Jones was the mainstay guitarist vocalist of cult Welsh guitar band Man for over 35 years until a benign brain tumour meant quiting the road and handing over the family legacy to his son George. Micky made a brief comeback but continues to recuperate slowly but surely from another related operation.
There may be many unsung heroes of the guitar in the Rock pantheon but Man's Micky Jones must surely be one of the most consistent and underrated talents of the guitar. Until his illness he barely missed a gig in over three decades, having made the change from The harmony vocal group The Bystanders to becoming Wales's leading psychedelic rock band Man in November 1968.
Micky originally made his name as a guitarist on his red Gibson SG playing addictive riffs,medlodic phrases and adding an angelic voice. In tandem with fellow frontline guitarist Deke Leonard, Micky set out his stall on the 1969 'Two Ounces of Plastic With A Hole in The Middle' album which featured the timeless jam piece 'Spunk Rock', erroneously titled 'Spunk Box' by the record company.
Man's incessant touring across Europe gained reward with a devoted following and a batch of albums on which Micky quietly but authoritatively impressed. The Dave Edmunds produced 'Be Good To Yourself At Least Once A Day' (1972), was a bench mark for the band while the west Coast sounding 'Rhinos Winos & Lunatics' (1974) - featuring Micky magnificent solo on 'Scotch Corner' is equally essential.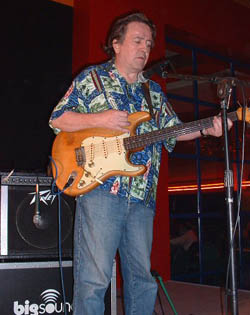 Micky's exciting spontaneous solo's on 'Jam Up Jelly Tight', and soaring vocal on the band's anthem 'C'Mon' from the 1973 chart album 'Back Into The Future', helped fulfill Man's music potential to the full.
The subsequent live collaboration with Quicksilver's John Cippolina at the Roundhouse, titled 'Maximum Darkness',(1975) found Jones eclipsing the band's West Coast hero, before Man briefly called it a day in December '76.
A couple of solo projects including the Flying Pigs, with Alvin Lee's bass player Mick Hawksworth and even a stint with Peter Sing, The Rocking Sikh, kept Micky's hand in, before Man reformed with another live album recorded at The Marquee.
Subsequently released as a DVD in the 'Legends of Rock' series, Micky was to be found at the height of his powers having switched to a Strat.
Micky Jones played superbly at Man's high profile Reading (83) and '94 Glastonbury festival appearances, both recorded for later release. And while studio albums were thin on the ground Jones again delivered some trademark Zappa style angular guitar lines on the bluesy 'Driving Around' from 1995 'Call Down The Moon', recorded in Seattle.
5 years on, the band re-signed with their early 70's UA label boss Andrew Lauder for the hugely impressive 'Endangered Species', with Micky delivering some sublime guitar lines on "the two part 'Love Isn't Love', a number full of big toned melodic lines, redolent of Zappa but the sound is unmistakably Micky Jones, quite simple a peerless player.
More information:
© 2006 Pete Feenstra/GRTR! All rights reserved.