KING CRIMSON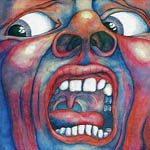 The legendary prog band King Crimson, led by maverick genius guitarist Robert Fripp, rarely get the credit they deserve.
Their 1969 debut album, In The Court Of The Crimson King: An Observation by King Crimson (to give its full title) is widely considered to be the best prog album ever, a title it more than justifies.
But don't let the word prog put you off. This isn't the Uriah Heep ,Yes or Camel prog. A harder harsher edge for a start, and some sounds you truly won't believe.
The first two albums featured bassist / vocalist Greg Lake, pre ELP, and McDonald and Giles on Mellotron and drums. Rhythms on the debut range from jazzy to manic rock, and the mellotron was an organ like device that relied on reed instruments rather than pipes. Interweaving with Fripp's guitar well, the debut album is a true masterpiece, with opening track "21st Century Schizoid Man" a classic slab of depraved maniac hard prog rock that deserves and demands to be part of any self respecting hard rock collection.
Other tracks are more whimsical, but the title track is pretty essential too.
Later line-ups replaced the Mellotron with a violin, and then saxophone (the legendary Mel Collins), while Bill Bruford (Yes drummer) also joined for various stints. The band disbanded in the mid 70s and reformed in the early 80s, and again in the 90s, with the 90s material more guitar led but pretty heavy and worth checking out, especially Thrak.
© 2006 Joe Geesin/GRTR! All rights reserved.