GIRLSCHOOL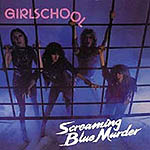 All girl London band Girlschool rose to fame as part of the NWoBHM (featuring members from Painted Lady), releasing their debut single in 1979 before signing to Motorhead's then label (Bronze) and management company following a successful support slot.
While guitarists and bassists came and went, the band has forever been centred around guitarist Kim McAuliffe and drummer Denise Dufort, with both six stringers and bassist often sharing vocal duties.
Despite Glam phases, the band have never relied on sex or any other kind of image presentation like many other girl bands have, with reliance on songwriting and sheer energy and enjoyment. Compare to Vixen, with whom Girlshool wiped the floor with during a 2005 co-headline.
Early hits include 'Hit & Run' and a classic cover of 'Race With The Devil', and the band had a top 5 hit with 'Please Don't Touch', as Headgirl with label mates Motorhead. Dufort had to play drums with Phil Taylor handicapped by a broken neck.
While the first two albums are considered the best work with the 'hits', it's the third album Screaming Blue Murder was perhaps the strongest, featuring 'Don't Call It Love' from the Wildlife EP, while 1984's Play Dirty, produced by Noddy Holder, was the most professional sounding and still a firm band favourite.
A single '1-2-3-4 Rock'n'Roll', a label thing, is best forgotten, as is the cover of 'I'm The Leader Of The Gang' with Gary Glitter.
1985's Running Wild was only issued in the USA, now a major rarity, and a good album but a period the band like to forget.
Nightmare At Maple Cross was good but not the band's best, but Take A Bite finished the decade on a high note, one of the band's strongest efforts.
The 90s were quiet, with a self titled effort for the Communique label, and a live album. The most recent sets; Not That Innocent and the most recent Believe (featuring returning bassist Enid Williams and new guitarist Jackie Chambers) are excellent and feature the band back to their absolute best.
More information:
© 2006 Joe Geesin/GRTR! All rights reserved.