FOGHAT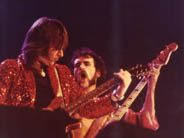 UK hard blues rockers who relocated to the US, were formed in the early 70s by vocalist / guitarist 'Lonesome' Dave Peverett, bassist Tone Stevens and drummer Roger Earl, all ex Savoy Brown. Joined by lead guitarist Rod 'The Bottle' Price (ex Black Cat Bones), their first album was a hard rocking yet earthy r'n'b set, featuring a cover of "I Just Want To Make Love To You", which became a minor hit, live favourite and signature tune.
The band quickly progressed to a harder blues rock sound, blues of the stadium variety, and were soon a huge live draw.
1977's Live album was a huge success, and the following year's Stone Blue was perhaps the last of the classic era, featuring on the title track and on the outstanding cover of "Sweet Home Chicago" some of the heaviest and best slide guitar you'll ever hear.
Boogie Motel had some excellent moments but the band were reverting to the garage/r'n'b end of blues rock, abeit at the pop end. Losing popularity, the band split in the early 80s.
Foghat reformed in the mid 90s and the Return Of The Boogie Men is one of the best blues rock albums you'll ever hear, with a very heavy and modern sound too.
Despite the death of Dave Peverett, the band soldier on with some excellent music , although they are probably past their best.
More information:
© 2006 Joe Geesin/GRTR! All rights reserved.