DAVID BYRON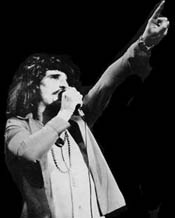 The operatic vocalist who made his name with Uriah Heep, had a short lived solo career, beset by alcohol and an early tragic death in 1985.
His first solo album, recorded while still in Uriah Heep, featured many band members and is pretty much second rate Heep. After an album with Rough Diamond (featuring guitarist Clem Clempson), he recorded the better Baby Faced Killer.
His highlight, though, was released in the early 80s when David Byron teamed up with young guitarist Robin George. With renowned saxophonist Mel Collins, the album On The Rocks is essential listening. Hard rock with an 80s polished sound and a blues edge.
Two years later and it was all over, and the second 'Byron Band' album with Robin George was never completed.
Tragically short for such an excellent singer.
More information:
© 2006 Joe Geesin/GRTR! All rights reserved.