COZY POWELL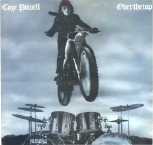 The legendary drummer, who played with almost everyone worth playing with, started life in the 60s with what were almost Beat groups, and released singles with The Sorcerers, Youngblood, Big Bertha and Ace Kefford Stand, but it wasn't until he joined the Jeff Beck Group in 70/71 that he came to prominence, and caught the eye of Mickey Most, Ritchie Blackmore and Brian May, all of who he would later work.
Strong timekeeping, an underrated technique and a legendary power made Cozy a wanted man, and perhaps being too nice for his own good, played with too many people on a handshake.
Two classic albums with Jeff Beck were followed by sessions (including Chick Churchill, Donovan and others) and a classic hard rock album with Bedlam. Sessions with Mickey Most at the RAK studios followed, featuring work used by Hot Chocolate, The Arrows and others, and three solo singles. Dance With The Devil was a major hit, and featured label-mate Suzy Quatro, while Na Na Na featured Don Airey and Bedlam vocalist Frank Aiello.
Cozy took some time out of the industry before joining Rainbow, with Rainbow Rising being some of his and guitarist Ritchie Blackmore's finest work. Hard British rock at its absolute best.
4 albums later (including a live set and several hit singles) and a farewell performance at Castle Donnington, Cozy had already released a solo album and guested on an album by guitarist Bernie Marsden.
Cozy joined MSG (Michael Schenker Group), again for some of their best work, another solo album, and sessions with Graham Bonnet (Line Up LP and the hit single Night Games), Roger Daltrey, Robert Plant and more followed.
1982 saw Powell join Whitesnake to undertake the Saints'n'Sinners tour (Ian Paice had played on the album), before the band played Donnington and recorded the classic Slide It In set (another solo album on the way). More sessions followed, including Cinderella and Forcefield, while Cozy joined Emerson Lake and Powell, the first rehearsals using tree branches because he forgot his sticks!!!.
The late 80s saw Cozy join Black Sabbath, and also play on the Comic Relief single The Stonk. Enter the 90s and Cozy played on the lion's share of Brian May's solo material (both albums), another session with Black Sabbath and then with Glenn Tipton, the Judas Priest guitarist.
Cozy played on Yngqwie Malmsteen's Facing The Animal album but had to abort from the tour following a motorcycle injury. We was recovering from that with the intention of touring with Brian May when he was killed in a car crash. His final work was with Colin Blunstone. More material featuring his work retrospectively has recently been issued by Glenn Tipton and Tony Martin.The career is too long to go into here but he is one of the best and most travelled hard rock drummers.
More information:
© 2006 Joe Geesin/GRTR! All rights reserved.