Alan Clayson - pop historian, author of around 30 books, sometime leader of the legendary Clayson and the Argonauts, and once one of Dave Berry's Cruisers and Screaming Lord Sutch's Savages.
There are still people around today who'll tell you that Alan Clayson & The Argonauts was the greatest group ever formed. Certainly, the stage act defied succinct description and, crucially, Clayson was being spoken of and written about in the same sentences as the likes of Wreckless Eric, Tom Robinson, John Otway and Elvis Costello.
To launch a double-album retrospective by Damaged Goods (Cat. No.: DAMGOOD 257 CD), CLAYSON AND THE ARGONAUTS will be undertaking a one-off headlining concert on the 3rd of December at the Metro, Oxford Street, central London. We spoke to Alan Clayson about his extraordinary career.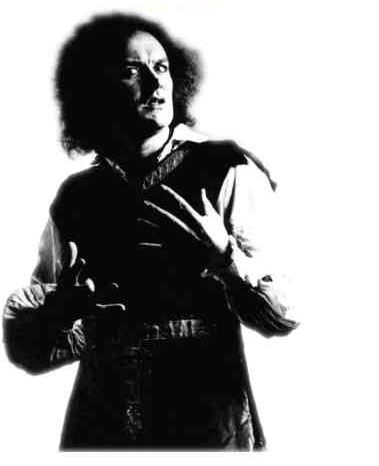 Website: http://www.alanclayson.com
SAH: Your first band was Ace and the Crescents. Why did you decide that rock and roll was the game for you?
Alan Clayson: Ace and the Crescents consisted of me and other pupils at a truly desperate grammar school for boys near Aldershot. Like a lot of such establishments in the mid-1960s, it was a cross between an army detention barracks and a sort of homosexual dating bureau. Our principal motivation for starting the group was because we thought it would give us greater licence to talk to girls.
SAH: You say you learned showmanship from seeing the Mothers of Invention. What provoked you so much?
Alan Clayson: How do such obsessions start? I used to be a fan of The Dave Clark Five because a Boy Scout patrol leader I admired said he liked them. After that, I followed the Five's chart fortunes as other lads would a football team, always ready with a plausible excuse why an increasing number of their records weren't hits.
Then came the day in 1966 when I travelled over the edge of the world to Swinging London from a distance measurable in years as much as miles from the country town in Hampshire where I was raised. In a booth in the HMV record shop along Oxford Street, I heard side one of Freak Out! by The Mothers Of Invention, which led me to attend their first British concert a year later.
This was a pivotal event that informed not so much my artistic direction as an attitude about presentation. Through received advice from Frank Zappa, the Mother Superior, I also became an even more "difficult" teenager during a running battle about haircuts, Church attendance and other issues with a mother who swore she'd die of shame if ever I appeared onstage with as pop group.
SAH: Somehow you ended up in a folk-rock outfit, Turnpike. What on earth possessed you to do that?
Alan Clayson: I imagined, wrongly, that it might be possible to impose my own ideas and personality upon the established status quo of Turnpike's stylistic determination and the rhythm guitarist's songwriting monopoly. However, it turned out that he and most of the others were anxious to be rid of me as soon as someone more suitable came to light - such as a girl singer who doubled on flute.
Turnpike's subsequent history was punctuated with passionate menages a trois with consequent punch-ups, walk-outs, malicious glee, back-stabbing, constant jockeying for position, primadonna tantrums and all the other intrigues and conspiracies that make pop groups what they are.
SAH: Then on to the legendary Billy and the Conquerors, your personal favourite of all your bands. Tell us more?
Alan Clayson: In 1972, Billy and the Conquerors smouldered into form as an escape valve from the earnestness of Turnpike, and because myself and others of the same passion had started scouring junk shops, deletion racks, charity stalls and jumble sales for overlooked artefacts from earlier musical eras: anything to keep the ghastly "Woodstock Generation" present at arm's length.
From this evolved attempts at reproducing the outmoded sounds on guitar, voice and piano. At some point during the fun and games, we mulled over suitable names for a group that could perform these numbers, and someone suggested "Billy and the Conquerors". However, the consequent story of this astonishing ensemble must wait for my autobiography.
SAH: Then it was (briefly) Average Joe and the Men in the Street before you finally arrived at the Argonauts. What were you thinking about?
Alan Clayson: Billy and the Conquerors became so cumbersome that preparation for every performance was like a military operation. To all intents and purposes, the group was no more when a Melody Maker Battle of the Bands tournament was looming. Therefore, I assembled a quartet containing the most committed Conquerors to give 'em approximations of "The Story Of My Life", "Just Walkin' In The Rain" and "Red Sails In The Sunset". Random notes chased up and down fretboards to unco-ordinated, relentless drumming. On the spot, one of the judges offered us a booking at some funny party he was attending in West London the following night. More importantly, Allan Jones, then awaiting his destiny as Melody Maker's editor, wanted to put us in the finals. Though he was over-ruled, he hadn't forgotten Average Joe when I wrote to him a few months later with news of Clayson and the Argonauts' London debut at the 100 club on the ninth of January 1977.
SAH: Amazingly, you were actually getting some positive press at the time. Did you ever think you would actually make it?
Alan Clayson: What do you mean, "amazingly"? Very quickly, we'd become a very "happening" group, having become too hot for our native Berkshire to hold, even if, only a fortnight before the 100 Club engagement, we'd been hustled out of a venue in Reading at gunpoint by a promoter who'd found the show so "rubbish" that he felt entitled not to pay us. On this threshold of eminence too, one Argonaut was jailed for fifteen months, and two others quit; one of them fated to co-produce Hilda Baker and Arthur Mullard's chartbusting duet of "You're The One That I Want", another to father a future member of Girls Aloud.
Nevertheless, after a glowing review in the New Musical Express of a performance in Guildford, and a full-page feature in Melody Maker, we spent the next three years expecting to be on Top Of The Pops next week.
SAH: You even blagged a Radio 1 In Concert spot. What the...?
Alan Clayson: See above. The consequent sweep of events also embraced headlining at places of legend like the Marquee - where, once, a handful of girls screamed non-ironically at me - the Roundhouse and Amsterdam's Melkweg as well as any number of university hops - such as that at Queen's College, Belfast at the height of the Troubles, where an apparently ecstatic audience were still demanding more after six encores. In parenthesis, what became The Eurythmics warmed up for us at some college ball in the Midlands.
SAH: This was a time of punk and new wave. How did you manage to get booked?
Alan Clayson: Our stage act defied succinct description, and, crucially, I was being written of in the same sentences as the likes of Wreckless Eric, John Otway, Tom Robinson and Elvis Costello. I'm not making this up, but media folk started flocking round me like friendly if over-attentive wolfhounds. For the group and I, there were more dates that could possibly be kept, always, it seemed, one week after Wreckless Eric and one week ahead of The Adverts.
En route, we experienced the wreckage by an over-excited crowd of a Luton auditorium; a near-lynching at Barbarella's in Birmingham; a punch-up and correlated car chase after a midnight matinee in Canning Town; a season in a red-light district sur le continent (our "Hamburg" period); some woman clambering onstage to tear off her clothes at Islington's celebrated Hope and Anchor, and a bloke doing the same during almost-but-not-quite a riot at the Granary in Bristol.
Soon, we were past resistance to the circumstances that had made it impossible - for me, anyway - to go back to a previous existence of get-up-get to work-get home-get to bed groundhog days. If the van had drawn up outside a ballroom on Pluto, it mightn't have seemed all that odd.
SAH: Your recorded output was limited including a cover of Wild Man Fischer's 'The Taster', and the B-side actually cracked the Belgian top 20. Do you ever get invited on to the Belgian equivalent of "Pop Years"?
Alan Clayson: Our recorded output also included an EP (Last Respects), an album (What A Difference A Decade Made) and tracks on "various artists" compilations, not to mention my solo releases.
"Landwaster", the B-side you mentioned, spent a fortnight in the Belgian Top Twenty as a result of a disc-jockey on a pirate radio station in the Netherlands spinning it in error instead of the official A-side, the Song That Dare Not Speak Its Name. He'd been impressed by our show during a tour of Holland in autumn 1977. However, our chart placing was so fleeting that it didn't warrant a television appearance. Yet, when I was in the country as Dave Berry's keyboard player in the mid- to late 1980s, I was interviewed several times about Clayson and the Argonauts by journalists from Dutch and Belgian fanzines.
SAH: Then it was over, bar irregular attempts at comebacks including an actual album in 1985. What made you keep coming back for more?
Alan Clayson: I have been sufficiently famous - if that is the word - not to be able to walk away from it. Besides, as a solo attraction I was - and am being - paid as if I was a group. Also, some of my compositions have since been "covered" and revived by other artists, most conspicuously Dave Berry, Stairway (New Age ensemble), Jane Relf (ex-Renaissance) and, this very year, Joy Tobing, Indonesian winner of Pop Idol.
SAH: You also kept gigging with the likes of the late Screaming Lord Sutch's Savages. Any happy / unhappy / legally prohibited memories from your stints on Sounds of the 60s roadshows?
Alan Clayson: Once, again, much of this will have to wait for my autobiography. Generally, it was often a strange experience appearing on the boards with people who'd once been only televisual figures during my turbulent adolescence.
Dick Taylor (Pretty Things), Jim McCarty (Yardbirds), Twinkle and Dave Berry became friends for life - and so did poor David Sutch, with whom I spoke hours before his apparent suicide.
SAH: Is this the last hurrah, or are you planning more musical activity?
Alan Clayson: Only a vast amount of money or a charity close to my heart will make me reconstitute Clayson and the Argonauts after this present flurry of activity. However, there has never been any doubt about my continuation as a solo entity. Stay tuned to HYPERLINK "http://www.alanclayson.com"http://www.alanclayson.com. The big news in 2006 is the recording of a new Clayson album to be produced by Wreckless Eric.
SAH: Any last words for the readers?
Alan Clayson: Listen to my records. Go to my concerts. Read my books.
SAH: Thanks to Tanya Reed for arranging the interview, you can order the CD from Amazon.
Interview © 2006 Stuart A Hamilton