ACE FREHLEY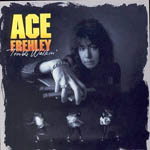 Kiss guitarist Frehley, is one of the best and best known riff-masters about, which is quite amazing given his equally well known inability to solo.
That said, he's produced some decent material with and without Kiss.
Like the rest of Kiss, he released a solo album in 1978 and Frehley's was perhaps the most critically acclaimed. His take on "New York Groove" was a highlight, and "Fractured" an instrumental concept he'd develop further on later solo releases.
His career has been dogged by drugs, and Ace has written songs about his problems.
His first two fully solo (ie post Kiss) albums Frehley's Comet and Second Sighting are solid and worth checking out, but his third, Trouble Walkin' is excellent. It easily eclipses anything Kiss did without him, and must rival anything he did do with them.
Frehley also released a live EP, and a couple of live/studio compilations later he was back in make-up for a reformed Kiss. Hardly a musical decision, but they're all laughing financially now.
More information:
© 2006 Joe Geesin/GRTR! All rights reserved.