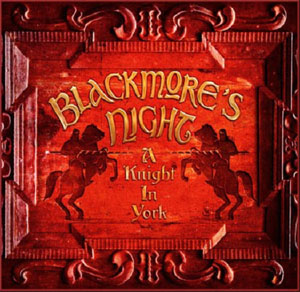 WIN THE NEW BLACKMORE'S NIGHT DVD!
THREE COPIES TO BE GIVEN AWAY PLUS CANDICE NIGHT CDs FOR RUNNERS-UP!

Ritchie Blackmore's musical career is branded by an uncompromising faithfulness to his own musical ideals: he already distinguished himself as an ambitioned rock musician in Deep Purple and Rainbow.
For the past 15 years, Blackmore's Night has shown a marked contrast to the two previously successful bands he formed, making him one of the few musicians who has successfully formed and performed in three different musical genres.
With "A Knight In York", the third Blackmore's Night DVD release, Ritchie, Candice Night and their band of minstrels take their devoted audience on a musical journey through the ages.
Recorded live on 30th September 2011, "A Knight In York" will be out on 29th June 2012 (UK: 2nd July) on UDR/EMI and features identical track listings in the following formats: Special DVD + CD digipack deluxe edition; CD jewel case (audio), DVD, BluRay, double vinyl LP & digital formats, plus a special limited edition "Fan Package" (details to follow at www.udr-music.com).
Tracks: 01 Locked Within The Crystal Ball 02 Gilded Cage 03 The Circle 04 Journeyman 05 World Of Stone 06 The Peasant's Promise 07 Toast To Tomorrow 08 Fires At Midnight
09 Barbara Allen 10 Darkness 11 Dance Of The Darkness 12 Dandelion Wine 13 All The Fun Of The Fayre 14 First Of May

We have three copies of the CD/DVD digi-pack to give away to three lucky winners.
And three runners-up prizes of Candice Night's latest album 'Reflections'/

Just answer the following question. Closing date 31.07.12. Winners will be notified by 10 August.
What was the name of one of Ritchie Blackmore's first bands?

a) The Yardbirds
b) Deep Purple
c) The Outlaws
Now complete the form below: